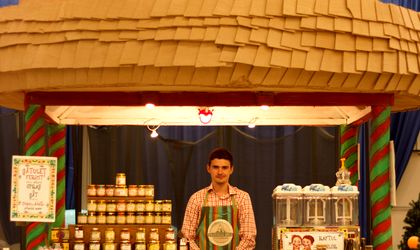 In December Romanians attach increasingly more importance to traditional products, sales in this segment growing by over 50 percent during this time, according to Pravalia Mica, a new online concept store specializing in the sale of 100 percent Romanian food, therapeutic and cosmetic products.
According to the retailer, during the year the average value of a shopping basket containing local manufacturing products reaches between RON 100 and 150. In the period before Christmas a significant boost both in value and the volume of orders is registered, the average basket value exceeding often times RON 300.
"Romanians still respect their traditions, and when it comes to organizing dinners for Christmas or New Year they are very selective about the foods they choose and are careful to include Romanian cuisine in their menu," said Tudor Barbu, managing partner of Bacania Mica.
Thus, besides the typical shopping at retail chains, for the holidays Romanians attach particular interest to traditional products, such as traditional Romanian preserves (green nuts, bitter cherries, sour cherries, berries) homemade cakes, traditional meat dishes, cheeses, pine nuts and sea buckthorn crafted syrups and gourmet specialties made in manufacturing system (chilli preserve, cold pressed Romanian oils).
Also, according to the Bacania Mica representative, with the approaching holidays, the interest for gift baskets increases greatly, which has led the retailer to include in its offer the option to create personalized gift baskets. The company has also recently partnered with Bringo.ro, so over 70 percent of the retailer's products will be available for fast delivery and a 50 percent lower delivery price on the Bringo platform.
Bacania Mica hosts over 380 products made in small manufactures which aim at keeping their products' quality unaltered through natural processing methods. Among the brands in its portfolio are Prisaca Transilvania, Luna Solai, Ana Are, Bio Terra, Artesana, Apidava, Ana Boutique, Vrancioaia Traditional, Pivnita Bunicii, Cabana Motilor and Cheia soaps.
Natalia Martian