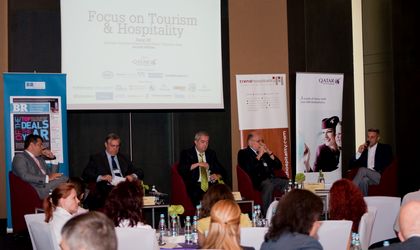 Since Romania's tourism revenues have decreased by about 16 percent over the past four years, stagnation is the best case scenario for the second semester of 2012 as the industry continues to struggle with the effects of the economic downturn and an array of unaddressed issues, argued participants at the second edition of the International Investment Forum – Focus on Tourism & Hospitality an event organized by BR last week.
"The tourism industry is closely connected to the general state of the economy. If the economy is growing, so is this sector," said Radu Enache, president of Romania's Hotels Federation and one of the speakers at the event. Gabriel Antohe, analyst in the tourism and portfolio stock monitoring department of SIF Transilvania, a local financial investment company with a large tourism portfolio, confirmed that the industry is on a downward trend and so far this year it has been below expectations and below 2011's figures.
Financing remains one of the main stumbling blocks for the industry, complained participants.
Banks are extremely reluctant right now to finance investments in tourism as this has become synonymous with real estate. And this view is not far from the actual situation in the field, said Enache. During the boom years a lot of heterogeneous tourism investments were made, in many cases by people who didn't have the necessary know-how to run a hotel or a restaurant but saw real estate potential in that investment, said Enache. "There haven't been actual investments in tourism but rather investments in buildings," he stressed. He added that investment funds are no keener than banks to inject money into this sector due to low return rates, and EU funds aren't necessarily a solution as they can be linked to various local interests.
But even with the problem of financing put aside, it is very difficult to plan an investment that can be recovered in 10 or 15 years when the industry is dealing with a general lack of predictability, participants argued.
SIF Transilvania, which owns 43 hotels through nine companies where it is majority shareholder, has invested some EUR 100 million in its hospitality assets over the past five years and another EUR 30  million will have to be injected in order to finish the projects already begun, disclosed Antohe. He stressed that it is difficult to talk about any other future investment intentions in the present context. In his opinion, the lack of a national medium- to long-term strategy has hampered the overall development of the tourism industry and has made it difficult for individual companies themselves to come up with their own development plans.
Talking about financing through EU funds, Corina Martin, president of the National Association of Tourism Agencies (ANAT), said the funds available to local authorities for tourism promotion are often spent incoherently if not wasted, and fail to produce actual results due to a lack of coherence between projects and cooperation with the private sector. "There is for example the case of city halls using EU funds for various promotional materials such as brochures. They don't communicate with each other, not even within the same county. Moreover, each city hall includes the tourist routes it desires and sees fit in those brochures without consulting any representatives of the private sector," she said.
She added that employers' associations from the tourism industry are generally left out of the decision-making process by central authorities, much to the detriment of the industry. "I believe that right now, the only solution for Romanian tourism is a public-private partnership between the authorities and the private sector. In every major tourist region in Romania the associations we have set up must function better and better. City halls, together with county councils, local employers' associations, the local ANAT, private operators and so on must work together and come up with a local tourist development and promotion strategy. Where we have managed to make this kind of partnership work, the results are positive and obvious," said Martin.
She added that it is not normal for public workers alone to decide how the funds for promoting Romania as a tourist destination should be spent without consulting the private sector. Sorin Ionescu, managing partner at FiveStar Hospitality, supported the same idea, adding that public-private partnership is necessary to properly promote local tourist destinations.
The lack of collaboration with the private sector has also led to the misuse of EU funds for hospitality training, even though the industry needs better qualified personnel, said Tinu Sebesanu, CEO of Trend Hospitality.
Razvan Pirjol, president of Skal Club Romania, said that in recent years local managers have cut back on investments in training programs, blaming it on the industry's high staff turnover and lack of loyalty, as many workers are ready to go elsewhere for an additional RON 100. At European level, however, demand for hospitality training programs has gone up in the last few years despite the crisis and despite the fact that this sort of education is very costly, he added.
Present at the event, Gabriel Friptu, general director of the Management Authority for the Regional Operational Program, said EUR 3.7 billion of EU funds is available for Romania until 2013 through the Regional Operational Program, out of which 18 percent is reserved for tourism investments. Few tourism related funds are still available, as more than 80 percent have been contracted. The absorption rate for the same funds however, amounted to only 13 percent in mid-May.
Promoting Romania to foreigners and… locals
Lack of cooperation between the authorities and the private sector, the lack of a coherent national strategy to support the development of the tourism industry, the lack of know-how, the lack of financing and numerous other "lacks" mean that discussions about the local tourism industry's potential remain perpetually about potential only.
But putting all this aside, how confident and proud are Romanians to act as ambassadors, promoting their own country or city and, moreover, how well do they know local tourist destinations in the first place? Not that well, according to a little test devised by Magda Savuica, project manager of the 273 Places to Visit in Romania online project. Participants were asked to identify the tourist sites in seven pictures but it proved a difficult task.
"It is obvious that we are not managing to capitalize on the available tourism potential we have. It is also obvious that we can't fight this conception Romanians have, that a holiday abroad can offer more than a holiday spent locally," said Antohe, adding that unfortunately there are many Romanians who don't know their own country and not much has been done to change this conception.
Another topic raised by Calin Ile, vice-president of the Romanian Hotels Federation and the moderator of the event's second session, was whether Bucharest can gain more from tourism and become a destination for city-breaks. Gabriele Lenger, director for Romania of the Austrian National Tourist Office, shared the experience of Vienna and recommended that the promotion of Bucharest be based on a unique selling proposition.
Remus Visan, deputy managing director at Paravion Tour / Happy Tour, said that without the involvement of the authorities there is only so much private operators can accomplish even if the potential is there. Bucharest can also gain through events and conference tourism, added Sorin Nicolescu, president of the tourism section of the Bucharest Chamber of Commerce and Industry, but here too, the authorities need to address their reticence. In his opinion, Bucharest has the capacity to host at least one large event with more than 800 participants per month.Ending the discussion on a more optimistic note, Razvan Antoni, general manager of Amadeus Romania, said change is possible through a general change in mentality and by focusing less on the negative aspects and more on the problems that can be addressed.
Simona Bazavan