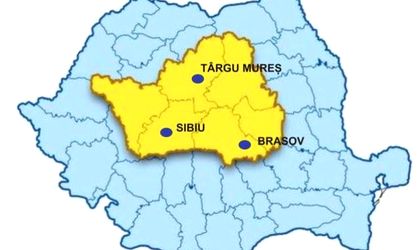 According to RisCo.ro's latest top of companies from central Romania, E.ON Energie Romania leads the ranking (as it did in the previous year) with a RON 4.72 billion turnover, while the National Society for Natural Gas in Sibiu, though registering a lower turnover (RON 4.49 billion), had a massive profit of RON 1.4 billion (as compared to E.ON's RON 93.99 million).
The top has taken into account Alba, Brasov, Covasna, Harghita, Mures and Sibiu counties.
According to RisCo, the region shows a combination of counties that have attracted important foreign investments especially in the automotive parts and have an important industrial potential (Brasov and Sibiu) and counties that have historically been neglected in terms of industrial development and infrastructure both for ethnic reasons , and lack of natural (Alba, Covasna, Harghita, Mures).
A large majority of the top 20 companies operating in the central region are active in the primary industries, working raw materials in processes with low added value: energy, wood, chemicals, mineral water, basic food. Some of the foreign investments attracted in poor counties in the region have been achieved precisely because of their disadvantaged status, making it an area of ​​low tax conditions. In the medium and long term, the central region has the highest growth potential, especially if the area's infrastructure will improve.
The top ranks companies according to turnover.
As announced E.ON Energy Mures leads the ranking. The electricity supplier has ended 2014 with a turnover of RON 4.7 billion, increasing by RON 166.5 million over2013 and a 93.9 million profit, down from RON 130.4 million against 2013. Also, in 2014 the company presented a decrease in the number of employees from 348 to 187 people.
Next on the list is Romgaz from Sibiu, which also maintains its position over 2013. With a profit of RON 1.4 billion, up 29.3 percent compared to 2013 and a total of 6,233 employees, the gas producer and distributor recorded a turnover of RON 4.4 billion in 2014, RON 599.07 million more than in 2013.
Selgros Cash & Carry in Brasov ranked third, the same as in 2013. 2014 was difficult for the retailer owned by the Swiss TransGourmet, showing declines both in terms of turnover and profits. Thus, turnover decreased from RON 3.09 billion to RON 2.8 billion in 2014 and the company's net profit stood at RON 15.2 million, RON 38.7 million less than in 2013. The company employed 3,882 people.
Autoliv in Brasov posted a RON 2.4 billion turnover, increasing by RON 320.4 million over 2013. Although the number of employees rose from 5,333 to 6,893 people, it did not have a positive effect on profitability for the manufacturer of automotive safety systems, the numbers dropping to RON 52.1 million, down 21.5 percent compared to 2013.
Continental Automotive Systems Sibiu dropped one spot against 2013, ranking fifth in 2014. The subsidiary of the German group went from a RON 16.1 million loss in 2013 to a profit of RON 47.8 million in 2014, while its turnover stood at RON 2.3 billion, increasing by RON 157.2 million against the previous year. The number of employees saw a steep increase from 500 to 2,896 people in 2014.
Part of the Schweighofer Group in Austria, Holzindustrie Schweghofer Alba ranks sixth, as in 2013. The timber manufacturer's turnover reached RON 2 billion in 2014, RON 73.5 million less than the value in 2013, while net profit fell from RON 431.4 million in 2013 to RON 294.2 million in 2014. The number of employees was 1,841 in 2014, a 188 people increase over 2013.
Schaeffler Brasov keeps the spot it held in 2013. The automotive components producer had a RON 1.7 billion turnover, up 5.9 percent compared to 2013 and a profit of RON 23.7 million, compared to a RON 6.4 million loss in 2013. The number of employees increased from 3,611 to 3,868 people.
Azomures of Targu Mures ranks eighth, as in 2013. The fertilizer producer's headcount fell by 728 persons compared to 2013, to 1,729, in parallel with an increase in turnover from RON 1.5 billion in 2013 to RON 1.6 billion in 2014. The company;s profit also saw a rise by RON 14.8 million, to RON 122.8 million.
Transgaz in Sibiu recorded a turnover of RON 1.6 billion, RON 133.7 million more than in 2013 and profit stood at RON 502.5 million, up RON 168.02 million compared to 2013. The number of employees dropped slightly to 4,854 people in 2014.
Going up one spot compared to 2013, Kronospan Sebes ranks tenth. With a total of 463 employees and a turnover of RON 1.1 billion, the construction lumber and furniture mouldings maker reported a profit of RON 2.2 million.
Marquardt Schaltsysteme in Sibiu, a new entry in the top, ranks eleventh with a RON 912.9 million turnover. The electromechanical switches manufacturer employed 1,764 people and had a profit of RON 47.02 million in 2014.
Europharm Holding in Brasov achieved a turnover of RON 870.9 million and a net profit of RON 1.200. The number of employees was 432. However, the GKS member might see a change in position next year, as the major shareholder of the company has decided to close the Brasov plant until the end of 2015.
E.ON distribution Mures, as in 2013, ranks 13 in the top. The gas and electricity distributor in Romania ended 2014 with a turnover of RON 770.5 million and had a profit of RON 83.03 million. The number of employees in 2014 was at 1,538 people.
Electrica Transilvania Sud Distribution from Brasov employed 1,825 and had a turnover of RON 690.9 million and a RON 100.1 million profit.
Romcab Mures, electrical wiring manufacturer, ranked 14th with a turnover of RON 661.7 million. The company;s headcount stood at 418, while profit reached RON 25.4 million.
The last company to hold the same place in the top is Romaqua Group from Borsec. The mineral water bottler had a turnover of RON 561.01 million in 2014, a profit of RON 11.4 million and a total of 1,895 employees.
Rank 17 is occupied by a new entry, Preh from Brasov. With a total of 720 employees and a turnover of RON 548.2 million, the German automotive manufacturer subsidiary ended 2014 with a profit of RON 25.9 million.
Kastamonu Mures, a member of the group Kostamonu in Turkey, climbed two positions in 2014, reaching 18th place. The manufacturer of mouldings and wooden furniture recorded a turnover of RON 540.03 million and a profit of RON 8.9 million while employing 864.
The last two positions are both new entries: Kronospan from Brasov had a turnover of RON 500.6 million and Transavia from Alba reached RON 476.1 million.
RisCo analysts estimate that 2015 will bring an increase in turnover for manufacturers in the central region of Romania, both on account of exports of automotive and wood, and due to increased consumption in industrial energy, but with no major changes in the current top.
Natalia Martian