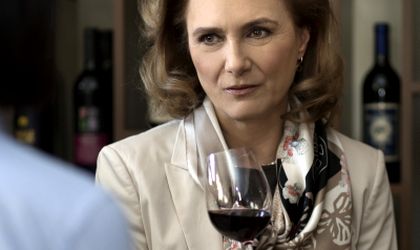 Mihaela Tyrel de Poix, CEO of Romanian wine producer SERVE, talks to BR about the company's performance in the first semester of this year and the long road the local wine market has travelled over the last 20 years.
Simona Bazavan

This year has got off to a good start for Romanian wine producer SERVE, with the company reporting a turnover increase of 10 percent in the first semester compared to the same period of last year. The market has also toasted an overall increase, and although double-digit growth rates like before 2008 are unlikely to return too soon, this is no bad thing, Mihaela Tyrel de Poix, the company's CEO, tells BR. The overall market is more mature both in terms of supply and demand compared to ten years ago, and even more so when compared to the situation at the beginning of the 90s.
SERVE was set up in 1993, making it the first privately owned winemaker in Romania after 1990. Today it owns some 110 hectares of vineyard in Ceptura and produces approximately 800,000 bottles of wine each year, making it the "largest player among the small ones and the smallest among the big ones," says its CEO. The company grew alongside not only the local wine industry but also the local business environment as a whole, and can offer today a good gauge of how this sector has developed over the years.
Investing in posh plonk
The story of SERVE starts with Count Guy Tyrel de Poix, who came to Romania in 1993 looking to start a wine business. Although a dentist by profession, he had a strong background in winemaking back in Corsica, where his family had owned a wine estate for several generations. "He had Bulgaria, Hungary and Romania on his list. He decided on Romania after he saw that there was huge and unexploited potential here," said Mihaela Tyrel de Poix, the late count's widow, who entered the partnership in 1993.
She had graduated from the Polytechnic University in Bucharest but says she found it hard to continue with her old job after the revolution. "Making use of my English and French skills I started representing various entrepreneurs who came to Romania to invest or simply to gather information. One of these entrepreneurs was Guy. With his passion for wine and desire to create things he persuaded me to change my career and remain in this field. What I think is most important in a career is to be able to actually create things and this is why I made this choice. This is how we both ended up doing this," she remembers.
In the beginning, the company focused on exports, as back then Romania had several major export markets such as the UK, Germany and the former socialist countries. However, after the producer lost a contract with British retailer Tesco in 1998, threatening its existence, it shifted the focus to the domestic market. "They got an offer which was three cents cheaper and delisted us. We considered closing the gates as we were left without a business. Back then we exported about 80 percent of our production and 300,000 bottles to Tesco alone," she says.
But the owners gave the company another chance and turned to the domestic market, where in the meantime consumption behaviors had changed enough to create demand for quality wines, adds the CEO. The number of restaurants in Bucharest alone had gone up from about 10 in the early 90s and the first international retail chains were entering the local market.
In 2000 SERVE launched a new brand of wine, Terra Romana, in addition to its existing brand, Vinul Cavalerului. The biggest challenge during those years was dealing with the volatile business environment of the 90s – what de Poix calls the "savage years" – while the biggest success remain the company's wines, she believes.
Developing a nose for quality wine
The Romanian wine drinker has come a long way since the early 90s, says de Poix. "Local consumers were very traditional back then. In the 90s they were basically at the same level that Western consumers were in the 50s," says the CEO. This meant they opted for white varieties over red as the latter were wrongly feared to be unhealthy, and preferred sweet wines overall. The main reason for this was that it was what the market offered at that time. "This was the consumer we found in the early 90s. When we came with dry wines everyone said they were sour," remembers de Poix.
Since then, the situation has changed for the better and the local consumer is today much more sophisticated and knowledgeable. This is partly because the supply has diversified since smaller wineries with a focus on producing quality wines have emerged. Demand has followed suit, especially as Romanians have started travelling and have been exposed to new consumption behaviors. They are also open to new and international trends, as over about five years rose wines have become very popular locally, opening the palate of many wine novices. Red varieties have also become more popular and now represent more than half of the market, says SERVE's CEO. Further promotion will help boost consumption even further, she adds.
The need for promotion
"If anyone were to ask me the mistakes we've made over the years, I would have to say the fact that we overlooked promotion," she says. However, given the large initial investments required to set up a winery, this situation is understandable, she notes. One has to invest about EUR 15,000 in a hectare of vineyard alone – the price of land not included – which will generate income in about three to five years. But as the number of private wineries has gone up considerably over the past 10 years, a critical mass of producers has been reached in order to sustain promotion efforts, believes de Poix, who is also the president of ONIV, the national association of local winemakers.
Producers are now focusing on organizing themselves to be able to lobby the government and get more support for the industry. Promoting Romanian wines to local and foreign consumers is also an objective. "I believe, and I know I am not the only one, that wines and winemaking should become a priority for Romania. The export of wine alongside promoting Romania as a tourist destination would help a lot to improve Romania's image," she said. Winemaking and tourism always go well together and de Poix is planning a side investment in a tourist facility in Ceptura after starting to get requests from travel agencies.
And the timing is right, as the reputation Romanian wines enjoy outside the country is starting to improve. "Our image abroad as a wine producing country whose advantage is quantity rather than quality is now starting to be forgotten. Slowly things are changing," she adds.
Toasting a booming industry
The Romanian wine industry is probably the local sector with the most dynamic evolution over the past 10 years, says de Poix. While in the early 2000s there were only four private investors, their number has increased to about 300 today. The availability of EU funds from the 2000s has played a major role in this development.
And the numbers show that there is still potential for growth. Romania is the sixth largest wine producer in Europe and the 10th largest in the world, with an output of between 5 and 6 million bottles each year. Yet over half of consumers prefer house-made wine to bottled wine, and out of this only around 20 or 30 percent is exported.
Nevertheless, the past years have seen considerable development, so much so that the local wine industry is one of the few sectors where discussions are shifting away from potential and talking about accomplishments. "We have proved there is potential, we are done talking about it and now we are making use of it. And this is something that can be seen. The average quality of products in the market has increased exponentially. While ten years ago there was a 10 percent chance of finding a drinkable wine out there, now the situation is exactly the opposite," she concludes.
SERVE – Company profile:
Turnover (2014): EUR 3.5 million
Number of employees: 57
Average annual production: 800,000
Vineyard area: 116 ha (60 ha in Dealu Mare and 56 ha in Cogealac)
Brands: Vinul Cavalerului, Terra Romana and four cuvees
Exports: about 40 percent of production
Export markets: Canada, USA, Belgium, Germany, France, Luxembourg and Cyprus