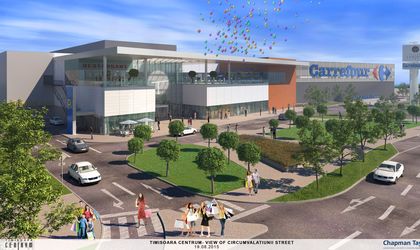 Timisoara Centrum has seen major modifications to the initial project, a statement by project initiator Alpha Group Investment (AGI) reads. The new version of the centre now covers some 70.000 square meters leasable area following an increased investment volume of EUR 90 milion.
Timisoara Centrum grew in both variety of tenant mix and surface. The 40 percent increase of the gross leasable area will host a 3,000 square meters country club having a wellness area, a spa, a fitness facily and a rooftop pool. In tune with the international trends, the food and leisure segment, comprising fine dining restaurants, a multiplex cinema and a family entertainment area, will be given a stronger impact, by a footprint that will reach 10-12 percent of the gross leasable area. This, itself, represents a premiere on the landscape of shopping centers in Romania. Another novelty of this stage is the incorporation of a DIY operator, which will occupy about 10,000 square meters.
"We experienced an increasing demand from fashion retailers who are not present in the city yet. We are still available for further interested tenants, particularly for retailers based in the region. Their presence would enable us to further increase the number of local retailers in the centre. Regarding the office building, we are in a negotiating stage of pre-leases for 50 percent of the surface, which means an important momentum for the scheme," said Ali Ergun Ergen, the retail expert leading the project.
Alpha Group Investments Ltd is an investment vehicle of Alpha Bank, holding, among others, a significant number of real estate and hospitality assets in South Eastern Europe. AGI aims, inter alia, to add value to real assets acquired by Alpha Bank Group through its lending activity, managing those through operating subsidiaries throughout the region, including Romania.
With over 15 years of experience in commercial real estate development, commercial leasing, real estate marketing and commercial property management, Ali Ergun Ergen gained particular expertise in retail site selection, commercial real estate development/re-development, land acquisition for commercial real estate development, anchor tenant selection, governmental approval process, and site plan development. He was active in major shopping centre rojects in Romania, including Bucuresti Mall, Plaza Romania, Baneasa Shopping City and Grand Cinema Digiplex in Bucharest, Coresi Shopping Resort in Brasov, Timisoara Centrum in Timisoara and many other greenfield or brownfield projects.
Natalia Martian