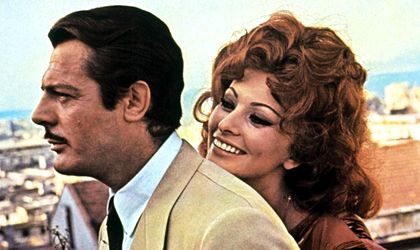 As Business Review previously announced, the well-known actress Sophia Loren comes to TIFF, being celebrated for her entire career, with the Lifetime Achievement Award. The event will be marked on June 4, at Cluj National Theatre, during the closing gala of the 15th edition of TIFF.
If you didn't book your ticket for the gala, you can still see the famous actress on May 3, starting from 6.30 p.m. at the Students' House. There, the actress Sophia Loren will be present at a special screening held in her honor of one of her best films – Matrimonio all'italiana / Marriage Italian Style (d. Vittorio de Sica, 1964), in which she acted alongside Marcello Mastroianni. For this role, the actress was nominated for a second time at the Academy Awards for best female in a leading role that year.
Sophia Loren is the recipient of four Golden Globes for World Film Favorite – Female, of the prestigious Cecil B. DeMille Award and of a BAFTA and she holds the record of being awarded six David di Donatello Awards for Best Actress. In 1991, she was celebrated by the American Film Academy with a Lifetime Achievement award, was declared a "treasure of world cinema" and, in 1999, was recognized by the American Film Institute as one of the great legends of the golden age of Hollywood.
Tickets cost RON 30 and can be bought from here.
Oana Vasiliu