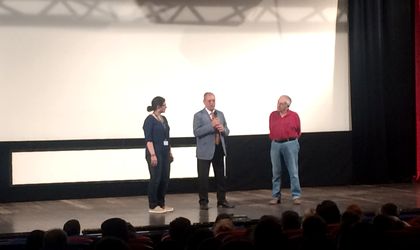 On the second day of the festival, TIFF dedicated a special screening to Dumitru Prunariu, meant to celebrate 35 years since his first trip to space, on May 14, 1981. Prunariu was a member of the Soyuz 40 mission of the Inter-cosmos space program and spent 7 days, 20 hours and 42 minutes in space.
The short film Opt zile in Cosmos/ Eight Days in Space (from the Sahia Film archive) raised some technical questions from the audience, being a full-house event.
"It has passed exactly 35 years and six days since I returned back on Earth, but what we should take into consideration is the progress that was been made since then – both on international scale and on national scale. We, as Romanians, have came along with cosmic exploration, through international programs. Moreover, I was part of some projects after my returning on Earth. Although no other Romanian astronaut hasn't departure yet, we have to take into consideration that only 7 percent of the world's astronomical activity is represented by departures," explained Dumitru Prunariu.
This year, a special focus will be on the cosmic topic, courtesy of Discovery channel, following several meetings and debates nationwide on this issue. "Eight colleagues of mine from different countries have come to Romania to talk about astronomy and to promote the cosmic activities and to educate the public in this regard," added the astronaut.
The movie was filmed on a 16mm camera and then made it suitable for cinema. In order that this film to be made, the astronaut himself asked the Russian authorities to share a copy. Afterwords, back on that time – the communist period-, it must contain some praise for the president of the country, Nicolae Ceausescu, in order to be made and to be released for the general public, and this section is quite visible during the short movie Opt zile in Cosmos/ Eight Days in Space.
If you are in Cluj Napoca, the astronaut will be interviewed by the journalist Mihnea Maruta at TIFF Lounge, Unirii Square, starting from 17.00.
Oana Vasiliu