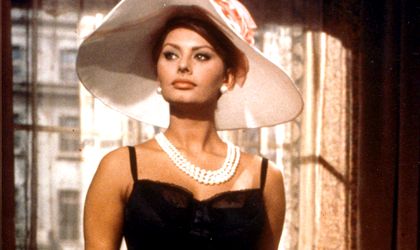 For the first time in Romania, the well-known actress Sophia Loren comes to TIFF, being celebrated for her entire career. The event will be marked on June 4, at Cluj National Theatre, during the closing gala of the 15th edition of TIFF.
"It's one of the meetings that we badly wanted for many years at TIFF and I'm glad it's finally happening. Sophia Loren is the idol of many generations, a very tonic and charmed presence, with a huge popularity everywhere in the world. It's a honor to have her at TIFF and a moment of happiness for Cluj to meet her, at  her first arrival in Romania. She's one of the series of celebrities who were celebrated at TIFF, from Claudia Cardinale, Annie Girardot, Vanessa Redgrave, to Catherine Deneuve and Geraldine Chaplin", declares Tudor Giurgiu, TIFF president.
Sophia Loren is 81 years old and was screened in almost 100 movies in her 60 years of career. She started her career in 1950, when she was 15 years old, and her first main role was in L'Oro di Napoli (1954), directed by Vittorio de Sica.
Oana Vasiliu