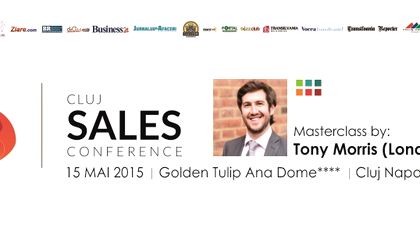 Time is tight until the first edition of Cluj Sales Conference, to take place this Friday. The event will bring for the first time in Romania the well known sales specialist Tony Morris. He is considered to be one of the most appreciated sales experts in UK.
Tony Morris has been working for 18 years in sales and he has educated and been a coach for more then 3000 sales specialists, but also sales managers and CEO's. He has gained a 2:1 Honours degree in Business and Marketing from Manchester Metropolitan University before travelling the World.
During Cluj Sales Conferene, Tony will speak about "The Perfect Sales Call". In his mas-terclass he will offer examples and practical advices based on his experience. Along the years, Tony has gone from the entry level up to a sales call contract of 725,000 pounds.
Tony started his career at Sitel as a telesales consultant, the largest outsourced call centre, where he was involved in selling utilities business to consumer. He was awarded sales person of the month for six consecutive months and was then moved into a training role helping over a 100 people to sell on the phone. Then he moved into a business to business environment selling address management solutions for Capscan. In his four years at Capscan he sold the highest value order of £725,000 over a 3 year contract.
Afterwards, he wanted to become an entrepreneur. Alongside his business partner Tony set up the Sales Doctor, www.salesdoctors.co.uk in May 2006. He started by cold calling to generate appointments for both himself and his partner Boyd. Within the first year the Sales Doctor had 56 clients and this has continued to grow year on year. In 7 years it has accumulated over 300 clients across 72 different industries, working with companies such as Oakley, Wren Kitchens & bedrooms, Polypipe and many more.
Cluj Sales Conference will take place on the 15th of May at Hotel Golden Tulip Ana Dome. More information about the conference at www.clujsales.ro. The conference is organised by Libero Events.