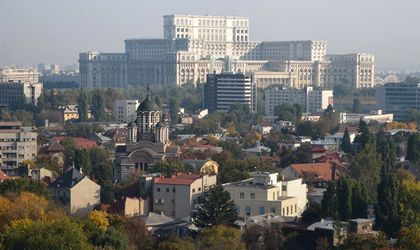 Asking prices for apartments in central, semi and north of the capital grew by about 1 percent in October compared to September, while prices asked by owners for apartments in the east, south and west have stabilized, according to an analysis of the Bucharest property market by HomeFinders.
Owners of apartments in central and northern Bucharest requested an average price of EUR 68,000 in October. On the other hand, average requested prices for apartments in the east, south and west areas have stabilized around EUR 51,479 (a mere EUR 21 drop from September).
Taking into account apartment types, three-bedroom flats located in semi-central areas, the central and northern Bucharest registered prices 11.67 percent higher than in September, with the average value of such housing staying at a high level, currently at EUR 110,000.
Three-bedroom apartments were the only housing for which owners in marginal areas of Bucharest have increased the asking price in October, bringing it to an average price of EUR 71,500 (EUR 1,500 more than in September).
Two-bedroom flats, on the other hand, declined in asking prices in all areas of the city, with central or northern apartments registering an average price of EUR 75,000, (2.72 percent less than in September), while housing in the east, south and west of Bucharest had an average asking price of EUR 59,900 (1.8 percent lower than that of September).
One-bedroom apartments in the center of northern part of the capital city registered a growth of 3.63 percent over September, reaching EUR 57,000, while those in the east, west or south of Bucharest dropped by 4.44 percent to EUR 43,000.
Overall, the number of apartments for sale in the city recorded a decline of 18.79 percent compared with September. The largest share was held by one-bedroom apartments, covering 52.74 percent of total housing on sale, while three-bedroom apartments held the lowest numbers.
While in the east, south and west of Bucharest most homes for sale were one-bedrooms, in the central and north area three-bedroom flats were in the lead.
HomeFinders is a consulting company dedicated exclusively to real estate buyers. Founded in 2011, the company brings together a team of 15 consultants specializing in major residential areas of the city. Since its establishment, HomeFinders assisted acquisitions totaling over EUR 30 million.
Natalia Martian