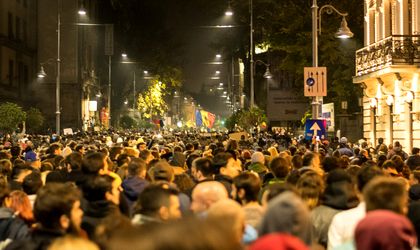 UPDATE: Over 25,000 people took to the streets in downtown Bucharest on Tuesday evening asking for the resignation of Bucharest district 4 mayor, Cristian Popescu Piedone, as well as that of PM Victor Ponta and minister of internal affairs Gabriel Oprea, according to Mediafax newswire.
The protests follow the fire that took place at the Colectiv nightclub in Bucharest on Friday, that left 32 people dead and approximately 130 wounded.
People bearing candles and flowers as well as banners reading "Corruption kills," or "Corruption, indifference and greed are killing Romania," initially gathered at Universitate Square at around 18.00. The protest was announced on several Facebook groups asking for the resignation of Piedone. Protesters later rallied towards Victoriei square in front on the government headquarters.
On the other hand, while protests are being held against him at Universitate, Bucharest district 4 mayor announced that he will build a monument in the memory of those who died entitled "the monument of the innocent ones" in the square located in the vicinity of the club.
"In the good Christian custom, when a soul dies away from home and the loved ones, the place is marked with a cross or icon so that the family has a place to commemorate, light candles and grieve," according to the press release from the Bucharest sector 4 city hall.
The Bucharest sector 4 mayor stated one day after the tragedy at the Colectiv nightclub that he does not feel responsible or guilty because, from the point of view of the city hall, the club was functioning legally, and that the controls made by his inspectors took place before 16.30 during working hours and not in the evening or at night when the club has activity, writes Mediafax.
"We have all the papers in the file, we have fulfilled all the norms of the functioning approval. (…) The law of the local police says that in order to release the approval, we need to have the agreement of the owner, the lease contract, the property title, the identification data at the Trade Registry. The tenant must sign a statement of responsibility about the activity they want to carry out. The functioning agreement sums up all the agreements from all the institutions," said Piedone, quoted by Mediafax.
However, Digi24 writes that there are some flaws in the release of the documents. The administrator of the club submitted the request for the release pof the functionign agreement on Novemberv 6, 2014, and should have received the agreement in 30 days. Since December 7 was on a Sunday, the administrator could have picked the agreement a day later. The document stipulates that, if the administrator does not collect the document 50 days after he submitted the request, it becomes null. That means he should have collected the document until December 29. However, the city hall released the document on January 14, 2016, which is 16 days after the legal term expired, according to Digi24.
Otilia Haraga
Photos by Ion Bazavan