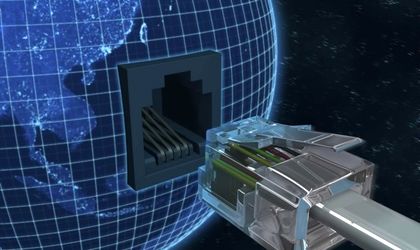 The Romanian telecom industry is on the tip of unprecedented diversification, as some very important changes are about to take place. The timeframe of the introduction of 4G on the local market has become clearer, and broadband is set to reach the still uncovered areas soon. On the consumer side, the battle is as sharp as ever, with increasingly innovative brand and customer experience strategies. Key representatives of the industry will debate all this and more during the BR event Focus on Telecom, on October 11.
Among confirmed speakers there are Jean-François Fallacher, CEO of Orange Romania, Stefanos Theocharopoulos, CEO of COSMOTE Romania & Romtelecom and Florin Petolea, CEO of Alcatel Lucent Romania
As smartphones enter the mainstream, many of our daily tasks will move to the device in our pocket. Currently Romanians can already pay using their mobile phone for their parking space, subway and taxi rides, cinema tickets, and flowers. Also, payments at various points of sale (POS) are a step closer to happening as near-field communication (NFC) has been tested in Romania.
In early summer, Orange Romania announced it was launching a pilot project in collaboration with BRD-Groupe Societe Generale to test NFC in Romania, a technology that allows mobile phone users to pay for their acquisitions at POS with their cell phone. Over 100 people with a bank account at BRD received Blackberries and SIMs with NFC capabilities while BRD installed over 2,000 POS compatible with NFC all over the country at supermarkets, restaurants, fast food outlets, pharmacies and subway stations. The trial was planned to last between three and six months. Orange was also in discussions with other banks on this subject.
Earlier, in February, Vodafone had struck a partnership with Visa which allows payments for goods and services via mobile phone. The new concept of mobile payments will be based on Visa prepaid cards.
While the partnership was signed at a global, not local level, it goes to show that the operator has the expertise to implement NFC in Romania as well, especially after introducing it in Germany, the Netherlands, Spain, Turkey and Great Britain, under this agreement.
As of this year, telecom customers have the option of paying for their parking space using their handset. Cosmote Romania in partnership with Piconet launched payment via SMS for parking in Timisoara, Resita, Oradea and Satu Mare.
Also, since January, Vodafone Romania users can secure their parking space  by sending an SMS, as a result of a partnership with the Bucharest City Hall.
Subway rides can also be paid for with the cell phone. Orange Romania announced that customers can pay for their journeys at Gara de Nord, Victoriei, Universitate, Petrache Poenaru, Timpuri Noi, and Grozavesti by sending an SMS.
Similarly, Vodafone customers can also pay via SMS in seven subway stations in the Bucharest subway, Victoriei, Universitate, Gara de Nord, Timpuri Noi, Politehnica, Grozavesti and Petrache Poenaru.
Operators also introduced the option for customers to pay for their subway, bus and tram rides with their mobile phone after the Bucharest public transportation utility signed a partnership with Orange, Vodafone and Cosmote.
More recently, on October 4, Orange and Clever Tech launched an application called Clever Taxi, available on iOS, Android and Windows Mobile platforms, via which customers can order the taxi closest to them directly from their cell phone.
Recently, it has even become possible to pay for a bunch of flowers at the subway with a personal handset, after Vodafone launched The Digital Flower Shop. By scanning the QR codes available at Piata Victoriei, customers can send a bouquet of flowers anywhere and pay via SMS or from the credit on their prepay card.
Cinema tickets can also sometimes be paid for via mobile phone. Following a partnership between Cinemagia.ro, Grand Cinema Digiplex and Vodafone Romania, customers can book their seats and select the hour and the location for a film via an application compatible with iOS, Android and Symbian, receiving the code of their electronic ticket by SMS.
Another field where there has been a great deal of activity in telecom is brand awareness campaigns.
Vodafone for instance launched a new brand campaign under the logo, "Vodafone brings together people who hope for the best. Together we are stronger."
The operator also collaborated with Humanitas publishing house over the launch of a digital library in the subway, located at Piata Victoriei station, where bookworms can scan the QR code of a book and download a fragment from it in various formats free of charge.
Still powered by the target of reinforcing its image and improving customer experience, Vodafone carried out an extensive store revamping program. In July, the operator announced it had finished the re-branding process for more than 100 stores in its network, following an investment of EUR 7 million. At the same time, the company also opened its flagship outlet, the Vodafone Experience Store, in AFI Cotroceni shopping gallery. Competitors Orange and Cosmote had also duly revamped their stores the year before.
To tempt more clients, Vodafone offered free Wi-Fi on some beaches in summer and on several ski slopes during winter.
Elsewhere, Orange launched one of the first mobile application concepts using augmented reality (AR) in Romania. Thus, the Orange Explorer application was launched with two activations: Antipa, through which mobile phone users could 'timetravel' to see mammoths, and Graffiti, through which they could try graffiti designs.
But it is not only the brand, but the technology that matters. After securing their spectrum resources for the next 15 years, telecom players in Romania have officially confirmed their interest in the launch of 4G services. In the long term, this will allow further development of an entire ecosystem, as 4G promises to deliver up to 100 Mbps for users on the move.
Orange Romania announced that it would launch 4G services in the 1800 MHz frequency in the coming months. "We are planning to start 4G services before the end of this year, pending the approval of the authorities, and from April 2014 we will be able to offer 4G services at the highest efficiency," said Jean-Francois Fallacher, CEO of Orange Romania.
Vodafone Romania has also announced a timeframe for a 4G launch in its network. "Vodafone will be able to launch 4G services for its customers in early 2013 (…). We already have a testing license for 4G and we will shortly start running tests in our network," said Inaki Berroeta, CEO of Vodafone Romania.
Cosmote Romania is also ready to "accommodate the long-term network needs for development and capacity for all technologies (2G/3G/4G)," said the company representatives.
Before the bid, Romanian-based company RCS&RDS also announced its interest in supplying 4G to its customers. "We are very interested in 4G and in the new services that can be launched based on this technology," Dragos Spataru, manager of the business unit for voice at RCS & RDS, told BR.
The fifth contender that took part in the telecom auction, 2K Telecom, also intends to use its acquired spectrum in this direction. "2K Telecom is already offering data services of the 4G-type using the alternative technology WiMax. (…) The newly acquired spectrum will be integrated into these two strategic directions of our company: first, specializing in building and maintaining modern telecommunications networks, especially 4G LTE networks, and second, opening up these networks to the other operators as part of collaboration models in which each firm enhances its own competencies," said Dragos Enescu, marketing director at 2K Telecom.
Otilia Haraga