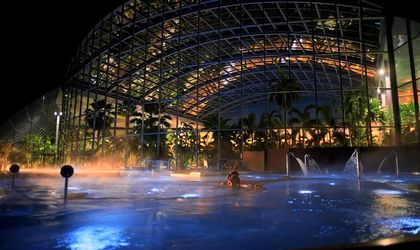 Therme Bucuresti, a wellness and relaxation center using thermal waters, is the result of a EUR 50 million investment made by A-Heat. Developers claim  it is the largest of its kind in Europe, according to Mediafax.
The investment started in 2013 with EUR 29.64 million when the construction of Therme Bucuresti began, reaching approximately EUR 50 million by the end of the project, and was financed by Austrian A-Heat Group, according to wall-street.ro. Therme Bucuresti will open its doors on January 14 and will be operated by the German Wund group.
Built on greenfield land just outside of Bucharest in the Balotesti locality, with a total surface of 30,000 square meters and a capacity of 4,000 simultaneous people, Therme Bucuresti extracts its water from a depth of 3,100 meters, the deepest drilling work conducted in Romania after 1989, according to Mediafax. The temperature in the pools will be 33 degrees Celsius, while that of the air will be between 29 and 30 degrees Celsius, further adds the newswire.
Therme Bucuresti also boasts the largest botanical gardens in Romania with over 800,000 plants, including unique ones such as the tree of life, details Agerpres.
The expectations for the first year are of around 800,000 to 1 million visitors, with the center being "an extremely energy efficient building, whose energetic autonomy is ensured 320 days out of 365", meaning that Therme Bucuresti is function on its resources 90 percent of the time, stated Stelian Iacob, the centre's administrator.
The resort has three main areas, the Galaxy area having the "most spectacular indoor slides in Central and South-Eastern Europe" that have a total length of 1.5 km, according to Agerpres. The other two are Elysium and the Palm, where the access of children up to 16 years old is not permitted with children under 3 years old being allowed only when accompanied by parents, as stated on the Therme website. The prices depend on length of access, area of access and age, with children under three having free access and the price for an adult for full day access to all three areas being RON 83 (EUR 18).
Andreea Tint