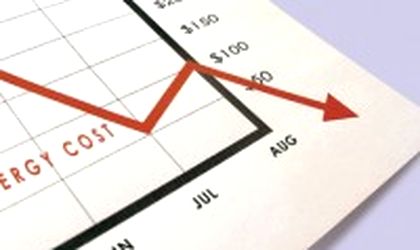 Announcements of two acquisitions are reshaping the local banking sector, while the EBRD's acquisition of an equity stake in the Bucharest Stock Exchange is giving new impetus to the development of the local capital markets.
Acquisitions point to consolidation in banking sector
Banca Transilvania, Romania's third largest lender, announced it was in talks to acquire the majority share package in Volksbank Romania from Volksbank, DZ Bank/AG, WGZ Bank AF in Germany and BPCE in France. The banks said talks were ongoing but that no binding document had yet been signed. According to reports by Bloomberg, the parent company of Volksbank Romania was looking to sell in order to lower its deficit but discussions are still in the early stages and may not even come to fruition. In August, Banca Transilvania reported a net profit of RON 212 million (EUR 48 million) for the first half of the year, up 17.7 percent on the year before, fueled by a rise in the net interest margin.
Earlier in the year, OTP Bank Romania had started the integration process for the local subsidiary of Portugal's Millennium BCP. OTP Bank Romania, a member of Hungarian group OTP, acquired Millennium BCP in a deal worth EUR 39 million which includes shares and integration costs. Millennium Bank has a portfolio of 80,000 clients and a network of 56 branches and 58 ATMs. After integration, OTP will have 400,000 clients, 150 branches and over 160 ATMs.
At the beginning of the year Spanish lender Caixabank closed down its Romanian subsidiary. The bank entered the local market in 2007 with hopes of becoming a significant player on the corporate segment. It reached break-even point in 2011 and reported a net profit of RON 8.6 million (EUR 1.9 million) in 2012, according to data from the Ministry of Public Finance. The local subsidiary has financed a series of real estate projects, some of which have filed for bankruptcy, such as Laguna Residence, developed by GEA.
EBRD buys equity stake in Bucharest Stock Exchange
The European Bank for Reconstruction and Development (EBRD) has acquired a 4.99 percent stake in the Bucharest Stock Exchange (BVB), the largest in South-Eastern Europe.
With this equity interest buyout, the EBRD says it is supporting the Romanian government's comprehensive capital market development program, which aims to improve the functioning of the local capital markets, enhance liquidity and increase the availability of debt and equity offerings in the local capital markets.
Romania has set a goal for the stock exchange to be upgraded to emerging market status – meaning Romanian stocks would be included in the MSCI Emerging Markets Index –from its current placement in the MSCI Frontier Markets Index. The EBRD will support legal and regulatory reforms to help achieve this goal.
The Bucharest Stock Exchange has been listed on its own market since 2010. As of September 2014 it lists 83 companies including the largest corporation in Romania OMV Petrom, Romgaz, Fondul Proprietatea, BRD Groupe Societe Generale, Banca Transilvania, Electrica and Transgaz. The total market capitalization is almost EUR 30 billion.
Scandal rocks insurance industry
Former Financial Supervision Authority (ASF president), Dan Radu Rusanu, businessman Ilie Carabulea and Marian Marzac, a former member of the ASF board, were indicted for their involvement in the "Carpatica File" and charged with acts of corruption.
Ilie Carabulea, owner of SC Atlassib SRL, and SC Transcar SRL, was charged with setting up a criminal group, trafficking in influence, bribery, using confidential information and forgery, according to the National Anticorruption Authority.
Marzac, former director of SC Carpatica Asig SA, was accused of acting as part of an organized criminal group, trafficking in influence, accepting bribes and abuse of office against the public interests.
Rusanu was charged with taking part in organized criminal activity, influencing statements, abetting offenders, and trafficking in influence for personal interests and in exchange for material goods.
Government cuts interbank fees for card transactions
This year the government approved a draft law capping cash payments and reducing interbank fees for debit and credit card transactions, Mediafax news wire reported. The Ministry of Finance drafted a project limiting interbank fees to 0.2 percent for debit cards and 0.3 percent for credit cards, after the measures were initially put forward in an emergency ordinance project.
The government also approved a law to strengthen financial discipline in cash payments and transactions. Under the draft, the limitation will be extended to individuals and not just companies: PFA (authorized individuals), individual enterprises, family enterprises, freelancers and independent workers will also be subjected to the same limitation.
The maximum daily quota for cash payments is RON 5,000 / person up to a total of RON 10,000 / day. The project includes capping daily cash payments to RON 5,000 / person for charges made for receivables and other rights, loans or other forms of financing. The sanction for exceeding the limit can reach 25 percent of the sum in question.