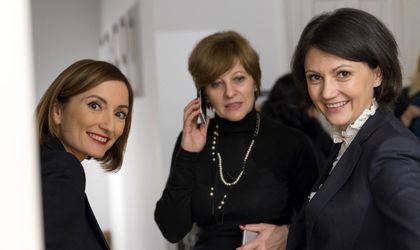 In 2012, Carmen Uscatu and Oana Gheorghiu founded the NGO called Daruieste Viata (Give Life). This is how they started their mission to increase life expectancy among cancer patients in Romania. In 2018 they started their biggest project, the construction of a oncology hospital  next to Marie Curie Hospital in Bucharest. The two fierce women managed to collect over EUR 16 million from donation campaigns .

Business Review spoke with Carmen Uscatu about their mission a. Since 2009, the Romanian TV reporter Paula Herlo joined the cause and offered constant support for all actions and campaigns. Currently she is the Honorary President of the Association.
Daruieste Viata is dedicated to modernize and endow state-owned clinics in Romania, especially oncology departments, in order to facilitate better access to treatment at European standards for cancer patients.  The NGO is also developing advocacy projects to promote legislative changes that could help the Romanian patient. The first Pediatric Radiotherapy and Oncology hospital in Romania will be built thanks to their donations campaign in the courtyard of the Marie Curie Hospital in Bucharest. Daruieste Viata also supports trough volunteers  all patients who ask for help in obtaining the right to treatment in the country or abroad.
BR: What made you start building the oncology hospital for children?
Carmen Uscatu: In Romania one out of two children with cancer dies. The mortality rate is huge compared to Europe, where  80 percent of there patients live. In most of the Romanian hospitals there is a lack of drugs and personnel. And the Romanian authorities only build new hospitals on paper. It's revolting. In Marie Curie, the largest state owned hospital for children, on the oncology floor, 30 children and 30 parents share two toilets. Every morning there is a bathroom queue. We initially wanted to renovate and refurbish the section. But we soon realized that it's mission imposible, so we decided to build a new one.
BR: What was the reaction of society when you started the donations campaign?
Carmen Uscatu: The public mobilization was incredible.  Since December 2015, when we started this project, over 200,000 people chose to make a donation on bursadefericire.ro or sent a text message at 8844 donating  2 euro monthly or 8864 donating 4 euro monthly with the same message – SPITAL. We also have a lot of Romanians living abroad who are very involved in what we do and support us through donations. More than 1,500 companies have joined our cause and they understand how important it is to redirect 20 percent of the state's state tax to a cause that eventually can make a difference between life and death.
BR: When will this hospital be finalized?
Carmen Uscatu: Our plan is to finish in April-May 2020. Meanwhile we had discussions with Ministry of Health officials and they promised they will donate radiotherapy equipment. We started looking for staff also. We try to attract Romanian doctors working abroad to join our cause and come back to their country.

BR: How will this hospital be managed?

Carmen Uscatu: The hospital will be donated to the state. But we will still remain evolved. We will establish a Scientific Board and an Administrative Board. We'll leave the hospital with a managing strategy in place. Be believe that the state should not be avoided, but it should be put to work. We have to push things and make the state owned institutions work better.

BR: How many hospitals would Romania need?
Carmen Uscatu: In our opinion, all Romanian hospitals built over 40, 50 and even 100 years ago should be demolished and built new ones from scratch because they do not meet European standards.  We want the first Romanian Pediatric Oncology and Radiotherapy Hospital to function as a model. Which then can be reproduced.