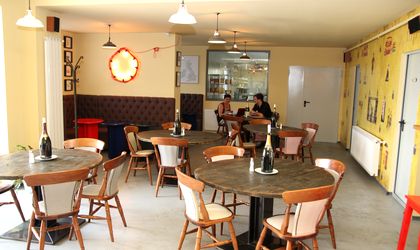 Early evening, a brand new housing estate. No human life to be seen, just a few dogs lying about. It might be the set of a sci-fi movie where zombies have vanquished everybody. Only the zombies are thoughtful gastronomes and have left a restaurant operating.
London Street Bakery, Green Lake Residences, 42 Petre Aurelian Street, Baneasa, 021 380 39 99
The restaurant is the London Street Bakery. It is similarly devoid of people, except for a very charming waiter and a chef or two in a huge, glass-fronted kitchen. Sun-washed yellow walls, a few large round wooden tables and some cozy booths give it a tastefully understated and laidback feel, and there are nice touches like bottles of Dom Perignon for candleholders. The London theme is reflected in child-style drawings of landmarks like Big Ben and red buses on the walls.
If you've eaten out in London, unless you are lucky, or rich, or a Londoner who knows where to go, you might be thinking, "Hmm, London – bad food, high prices." The London Street Bakery deals in the exact opposite – super food at prices that are a bargain even for Bucharest.
This is a place conceived of and run by people who get it. There is no plasma television. There is no smoking (though smokers can go on the terrace). Fitze and pitipoanca types will hate it, because it's not vulgar, it's not showy and there's nobody walking past to gawk at you. Think gastro-pub in Islington (an uber-trendy district of North London) that's big on the local and the organic and you'll get the idea.
Like most top-tier eateries, the menu focuses on quality over quantity, and there are four or five choices in each section (starters, dips, breads, mains and desserts). It's all online so you can investigate it for yourself, but basically juggles modern European gastronomy with old-school-but-now-fashionable-again British fare.
Solid starter chicken liver pate (RON 20) was given a funky blue cheese upgrade and served with pickled cherries whose tartness neatly cut through the dense meatiness of the pate. It came with house bread – of which more later. Smoked trout fishcakes (RON 20) balanced delicacy with a no-nonsense piscatorial taste. Spinach soup and quail Scotch eggs are other options.
In an upmarket take on chips, we next tucked into potato wedges, served with a choice of dips (RON 20). Nothing fancy, the wedges were fluffy and light, a moreish canvass for the red pepper and walnut pesto, olive tapenade and apple and plum chutney to do their stuff.
This sums up the London Street Bakery's ethos. The house doesn't try to be ostentatious about its food. You won't find a Heston Blumenthal wannabe in the kitchen fusing molecules together. It's about staple dishes, fashioned thoughtfully from quality ingredients and sometimes given an inventive twist.
From the mains, spinach risotto with blue cheese (RON 30) was topped with spiced caramelized walnuts, whose tang offset the creaminess of the rice and cheese. Lincolnshire sausages (RON 35) came with mashed potato and caramelized onion gravy and were the dependable comfort food you want if you order sausages. Another traditional dish that will appeal to red-blooded carnivore types was the beef, mushroom and red wine pie, while at the lighter end of the culinary spectrum there was quiche with leek, watercress, mushroom and sheep's cheese.
Panna cotta with strawberry, lime and basil salsa rounded things off with an appropriately creamy flourish.
With the most expensive mains at RON 35, garnishes at RON 12 and the costliest dessert RON 15, the London Street Bakery is affordable, something it presumably achieves by its zeitgeisty reliance on local produce – rather than air-freighting in lamb from New Zealand or beef from Argentina to bedazzle its diners at a whacking carbon footprint – and its peripheral location.
They do charge for the bread (RON 20/10 for sourdough and RON for a basket of the house stuff). I would normally consider this rather grasping, but then this is not normal bread (and the place does position itself as a bakery). Made in-house using flour from an organic farm in Timis (we were proudly furnished with a leaflet detailing its provenance), the range features everything from red wine and beer to flax and pumpkin seeds.
House wine starts at a fair enough RON 12 a glass and there's a long spirits menu with most costing around RON 14. If you do want to drop some money you can have a Biotta juice for RON 25. I'm not sure what Biotta juice is but I am sure Gwyneth Paltrow would approve.
The current scarcity of customers can only be due to the London Street Bakery's relatively recent establishment and, in particular, its peripheral location in the Green Lake Residences complex, in Baneasa. If this place were in Lipscani they'd be queuing round the block. I quite enjoyed having it to ourselves and am almost loath to publicize its many merits. So just forget I said anything.
debbie.stowe@business-review.ro
Restaurants in Bucharest
Where else to find European cuisine
Al Sapore
7 Unirii Blv.
Reservations 0723 572 534
The chef, originally from the Italian region of Marche, has put together a menu with a variety of "marchigiane" seafood specialties. Family culinary secrets of over 60 years, handed down from father to son, and the importance given to fresh and healthy ingredients make the restaurant a good choice.
Concerto
Grand Hotel Continental,
56 Calea Victoriei
Reservations: 0372 010 300
It's not cheap here (though if you order prudently and stick to soft drinks you could pay about the same as you would at other places not half as good). However, glass of house wine aside, Concerto offers superb value for money. Quality, presentation, service and ambience were all faultless.
Heritage
19 Polona Street
Reservations: 021 210 8850
The menu is fixed (rather than a long, tedious, rambling a la carte which so many restaurants choose here) with three variations: 'Classic', 'Evolution', and 'Vegetarian'. And in a catalogue of surprises you will see that Heritage is affordable.
Mica Elvetie – St. Moritz
64 Sandu Aldea
Reservations:021 224 5017
The restaurant promises "refined dishes made ​​with fresh ingredients. You can eat a gazpacho, a salad, sea bass fillet in beer sauce and, of course, a chilled dessert dusted with limoneta or pineapple carpaccio." Enjoy your meal on the garden terrace.
Novi Aquarium
111-113 Calea Floreasca
Reservations: 031 405 0597
With its interior and ambiance both excellent, the restaurant is aiming high. Fish features predominantly throughout the menu – refreshing in a town that sometimes seems to consider anything piscatorial to be a poor relation to meat, or to overcook it into oblivion.