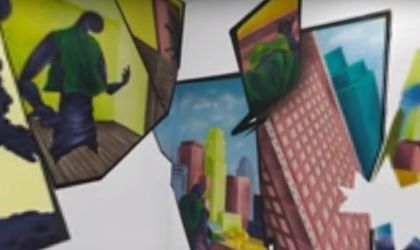 Under the unique concept in Romania, "Human Marketing", The Temple launches Grolsch Creative Metamorphosis, a 360 degrees video experience, in which the most important role doesn't belong to the brand, but to the consumer. The Temple brings to life the story of creativity and shows all the forms in which it can evolve in this 360 stop motion video, one of the first ones launched in the world.
Grolsch Creative Metamorphosis exemplifies the marketing strategy proposed by The Temple that brings a plus real value to the product, centered around the human. The brands' objective, in agency's vision, doesn't have to be the fight for attention, but for it to result in a natural way following some captivating, unique and innovating experiences.
In order to create that innovative production, The Temple has created a special team with renowned competences in the domain: Cristian Vieriu – video post production and soundtrack, Mihai Vasilescu – photographer, Sweet Damage Crew – Graffiti Art, Wood Be Nice – BTL production and Adrian Mirlogeanu – BTL manager and that has signed the movie Grolsch Creative Metamorphosis.
The team represents, in fact, one of the different characteristics of the new agency. According to its representatives, unlike the classical way of functioning, The Temple teams can be different depending on the project. The agency collaborates with many freelances from different fields so that every project can be developed by the persons that are better fit for the subject, the domain and the specific brand.
"I've created The Temple thinking at the same time at how a modern brand should act today, but more than that thinking about the consumers of the brand. I believe that, in the digital context, the brands have needs of integrated solutions that can concentrate of the delivery of captivating experiences that bring value to the brands. And in order to really bring something new we chose to work with freelancers from several creative industries, such as comedians, actors or music producers," said Andrei Lascut, human marketing designer of The Temple.
Romanita Oprea