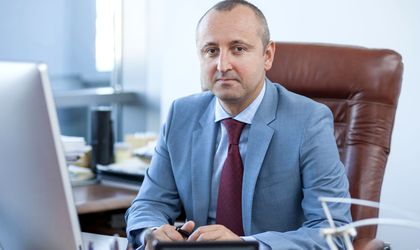 Bogdan C. Stoica has been promoted to name partner with Popovici Nitu & Asociatii and the firm has changed its name to Popovici Nitu Stoica & Asociatii, effective October 1st. He tells Business Review about his objectives in his new position and describes the current situation of the local M&A market.
Anda Sebesi­­
What are your main objectives in your newly-appointed position?
I am very happy and obliged by my partners' initiative and unanimous decision to appoint me as a name partner of the now called Popovici Nitu Stoica & Asociatii SCA. It is a very important moment of my career. After more than 15 years with the same core team, I do not feel it solely as a personal achievement but like a real success of our law firm. This is because in the case of big, well-established and reputed law firms such as Popovici Nitu Stoica & Asociatii, you need much more than personal achievements for such a decision to be adopted. You also need a real cohesion, common understanding and openness of the respective law firm partners. From this angle also, I think we are somehow unique on the Romanian market and I am grateful to all my partners.
In terms of personal objectives, I look forward to continue working together with our partners and teams towards implementing the diversified projects entrusted by our clients, as well as consolidating the position of Popovici Nitu Stoica & Asociatii on the Romanian market of professional legal services. I will also assume more responsibility in terms of management and administrative tasks. As you can imagine, with more than 80 lawyers and 120 employees, any organization has many such tasks to handle.
What would you say are your most significant professional achievements?
Professionally, I had the great pleasure of working and leading some of the most prominent M&A transactions in Romania during the last 15 years.  Apart from building a strong team of expert lawyers, I would say that these are the most important personal and professional achievements. Out of more than 70 M&A transactions that I have executed since early 2000, the best to remember are those successfully finalized as they always give you the sensation that you have been part of something big. Among these, the ones I'd like to mention are the full exit of the founders of LaborMed Pharma in favor of Advent private equity fund, the acquisition by Ameropa of Azomures and Chimpex, the entire acquisition program of Groupe Auchan and Immochan in România in the last eight years, the partial exit of the MedLife founders in favor of SGAM (the private equity arm of Societe-Generale at the time), the sale by Fondul Proprietatea of its significant participation in the sale and distribution companies of CEZ Group, the joint venture of Autogrill Group with the CNAB and that of ArcelorMittal with Nuclearelectrica, the acquisition program of the Polish Group Asseco in Romania in the IT industry, the corporate restructuring projects of Orange, as well as the acquisition and development program of Groupe Adeo/LeroyMerlin in Romania such as the acquisition of Baumax.
You have more than 15 years professional experience with the firm. How would you characterize this and what would you say are the most significant developments that you've seen the local legal market undergo during this time?
One of our repeat loyal clients called me few days ago to congratulate me for the name partner change. He said he was not only just realizing that we have been working together for more than 10 years but also that I have been personally working with the same law firm for more than 15 years. He considered it rather a rarity these days. It might be a rarity but it is also pleasant when you have the same core team and partners beside you, especially when you enjoy the projects you work on and the long-term relationship with your clients.
Looking back, I think the most significant development of our law firm was the building of a very strong team of legal and tax professionals, with specific specializations and with exceptional capabilities in the various areas of practice we approach. This has been a focus for us all during this period as we do believe that specialization is, and will continue to be a key element of a performing legal market.
I think that the legal market has become considerably more and more mature and diversified. Certain big law firms experienced dissolutions while, in parallel, we noticed the setup of boutique law firms trying to occupy various niches in an attempt to survive or gain market share. The legal market also experienced in the last seven to eight years significant dumping actions from law firms that did not know how to adapt to an increasingly competitive market. This might have worked in the short-term but in the long-term, I do not think the quality and performance of the legal service can be sustained other than with qualified experts and real value.
How do you see the local M&A market evolving through the end of 2015 and what are the most significant developments this year?
I would say that 2015 was, generally, as I expected at its early stage: a year with a larger number of transactions than in 2014 but second-rate in terms of value/proportions. On the other hand, I believe we can say now that 2015 has confirmed the increasing trend of M&A transaction initiated at the end of 2013.  Overall, I consider 2015 a better year than 2014, at least as far as the trend consolidation and a relative refresh of the M&A market. I expect the ascending trend to also continue in 2016 as the latter should be, naturally, better that the previous.
What are your predictions for the market beyond 2015?
I expect that 2016 will still be dominated by either opportunistic or necessity transactions, with the strategic players already present in Romania in key purchaser positions. Both big players and medium size ones determined to stay on the Romanian market should consolidate their positions by purchasing smaller competitors. A second significant component of the market will continue to be rescue or restructuring transactions – purchase of companies in difficulty. Last but not least, I consider that 2016 will provide a revival of pure M&A transactions, having as targets developed companies as greenfield during the last four-five years. Private equity funds, already more active since 2014, seem now set on performing new acquisitions and/or exits. By contrast, I do not think that 2016 will bring us much in terms of new capital market (e.g. new IPOs) as the worldwide general environment does not seem to offer the best conditions for such operations.
I think 2016 will bring M&A transactions with consolidation profiles in the fields of healthcare (where I see a series of 10-15 smaller consolidation acquisitions), banking and finance (with the NPL sales and acquisitions of smaller banks as vanguard), retail, services, agri-business, IT and telecommunications. Real estate has already been an increased focus starting mid-2014 and I think the trend will continue even stronger in 2016.
What factors do you think would help boost the M&A market beyond its present evolution?
I think Romania continues to be one of the most attractive countries for investments in Europe. Economically, we fared well through the economic downturn and the country looks like one of the most stable in EU these days from a macro-fundamental level.  Along with an attractive fiscal regime and a visible anti-corruption movement, the size of Romania and the competitive and pro-European background advantage of Romanians, create a premise for long-term and stable growth.  In addition, Romania remains a country where, in contrast to many other countries in the EU, there are still a lot of things to do, build and develop, from the very much underdeveloped infrastructure to a proper and clever exploitation of natural resources as well as the opportunities offered in the agricultural field.