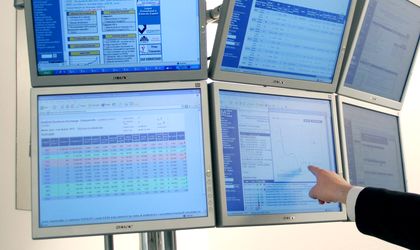 The Bucharest stock exchange opened in negative territory Wednesday, with investors showing no reaction to the Liberal Party's decision to withdraw from the ruling coalition. The only event that could indeed cause the brokers to lose confidence is if the Government loses parliamentary majority, writes wall-street.ro.
"USL is breaking up but that doesn't mean the economy has to stop; on the stock exchange people are not easily impressed by these political disputes which are pretty common in Romania. Investors care about the economical context, and this will not change significantly for the moment. I don't expect the stock market to drop in the next few fays. Even when the Boc cabinet fell, there was barely a 1 percent decrease. We're not even talking about a falling government, it's just a political alliance that is changing", according to Rares Nilas, director general for BT securities, Banca Transilvania's broker branch.
Gabriel Necula, head of trading at Alpha Finance Romania, believes the political struggles may have a small negative effect, but the worse is yet to come"
"It's obvious that the political situation has some negative influence, but I personally believe that a bigger effect on the BVB comes from the general state of emergent markets. It would be far more serious if USL' s split would affect the ability to form a parliamentary majority, but at the end of the day, we're only talking about politicians swtiching places", Necula commented.
Cristian Parvan, secretary general for the Romanian Businessman's Association (AOAR), argued that "the investors aren't going to make less sprockets" just because the USL is no more, and the investors that are looking to come to Romania already have a strategy in place.
"We are concerned because we want political stability and we want to have intermediaries for the vital economical sectors. D o you really thing that the investor in Romania will make less sprockets than he did before today? Investors that want to come will still come. These problems are scarecrows but they are not consistent. For instance, Italy changed its Government and then improved its rating", the AOAR representative commented.
Parvan warns that if the political instability will be perpetuated, the real economic problems will start.