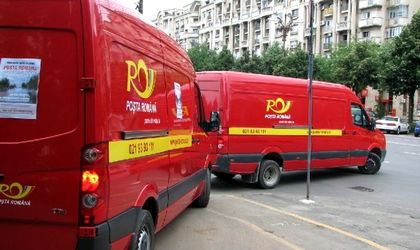 The Romanian National Postal Company (Romanian Post) announced a net profit of EUR 4.16 million (RON 18.7 million) for the first four months of 2015, as a direct result of an increase in income of 3.1 per cent compared to the same time frame of last year. After five years of financial loss, the Romanian Post has closed 2014 with a net profit of EUR 5 million (RON 22.8 million) and continued the ascending trend throughout 2015.
The financial status of the company shows an increase in income but also in expenditures for the period on January – April 2015, the latter mainly due to the salary increase applied at the end of 2014. Still, maintaining expense levels lower than revenues has enabled the Romanian Post to announce a brute profit of EUR 4.34 million (RON 19.5 million).
"While income from letter mailing or commodity sales continues to have a descending trajectory, contracts with major money transfer operators or distributing the national health cards have brought us significant revenues. As for the future, we plan to strengthen our connections with big players in the retail and banking fields and consolidate our standing in the e-commerce and insurance segment", Alexandru Petrescu, the general director, said.
The Romanian National Postal Company has become a joint-stock company in 1998, having as main stock holders the Ministry of Communications and Informational Society (75 %) and Fondul Proprietatea S.A. (25 %). According to their reports, they have contributed EUR 87 million to the state budget (RON 390 million), 22 per cent of this sum resulting from the VAT corresponding to the various commercial contracts closed by the company during 2014.
Natalia Martian