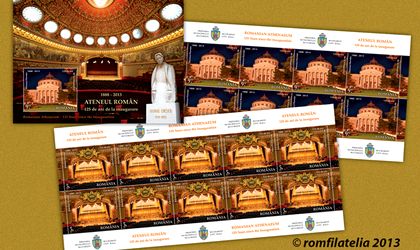 Romfilatelia released today the anniversary postal stamps "Romanian Athenaeum – 125 years since the Inauguration." The package comprises two stamps with the nominal value of RON 5 and RON 9.10. The stamps can be purchased in all Romfilatelia shops in Bucharest and nationwide.
About the Romanian Athenaeum
Founded in 1868, under the leadership of Eduard Wachmann, the "Romanian Philharmonic Society" had as purpose the setup of a permanent symphonic orchestra, for the dissemination of musical culture and for making popular the masterpieces of classical music. Under the conductor's baton of its initiator, 'The Philharmonic Society' organized its first concert in December of the same year.
Once the Palace of the Romanian Athenaeum was inaugurated on March 5, 1889, the concerts started to take place in the Great Hall, with a 1,000 seat capacity, as they do at present, the Romanian Athenaeum becoming the landmark of Romanian culture and the Philharmonic headquarters.
The Romanian Athenaeum history is closely tight to the 'Romanian Athenaeum' Cultural Society, established in 1865, at the initiative of some personalities of the Romanian cultural and scientific life, such as C. Esarhu, V. A. Urechia, Carol Rosetti, Alexandru Odobesu.
On March 21, 2007, on the occasion of celebrating in Romania 50 years from the signing on March 25, 1957, the Treaty of Rome, which established the European Economic Community, a plaque was mounted on the wall of the Romanian Athenaeum to mark the inclusion of this monument on the list of the European Heritage, approved on the occasion of the informal council meeting of culture ministers of the European Union, which took place in Berlin, on February 13, 2007.
Oana Vasiliu