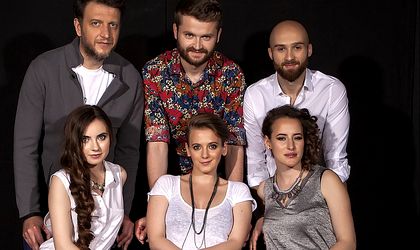 Blue Noise are Veronica Prodan, Elena Moroşanu, Ana-Cristina Leonte, Mihail Grigore, Bogdan Tudor, Denis Bolborea, meaning a cappella band from Romania, who's song titled "Love Won't Run Away" has made it to the Grand Final of the Romanian Eurovision selection.
The band has won several prizes at musical contests and they had collaborations with Romanian and international artists. Together with cellist Razvan Suma, they will interpret Chanson D`Amour (The Ra- Da- Da- Da- Da Song), When You Wish upon a Star, Seaside Rendezvous, Under Pressure, Prime Time Blues, Pass me the Jazz, Le Grand Tango, La Vie en Rose and Love Won`t Run Away.
The concert will be transmitted on Radio Romania Cultural and Radio Romania Muzical as well as through live streaming on the internet. Tickets can be found in Eventim network as well as the Radio Hall's box office. The concert takes place Friday, October 2, at 19.00.
Tatiana Lazar