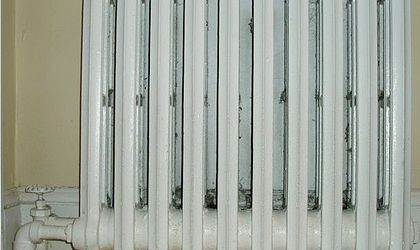 According to Doru Ciocan, ANRSC president, shutting off your radiator should be illegal. ANRSC stands for "National Regulatory Authority for Community Services and Public Utilites" and the president argues that it is unconstitutional to close central heating in apartments where heat cost allocators are installed, because many use this as a "trick" to get heat from the neighbors through the walls.
The idea that the heat that absorbed by the buildings walls should also be paid for by the next-door neighbours was initially launched in 2003, coming from a councillor working at the Ministry of Public administration.
Contacted by Mediafax, Doru Ciocan explained that turning off your radiators is not going to become illegal, but his institution is planning a study on how "apartments are getting their heat". After the study is conducted, based on the conclusions contained, the current legislation may change, even to the point of obligating home-owners to maintain a certain temperature in their homes.
Asked what is the reasoning behind this mentality, Ciocan replied: "Read the Constitution, article 44, let's uphold it. It's about insuring people's comfort and health!"
The article that Ciocan reffers to deals with "the right of property" and the responsibilities it implies, among them: "the observance of duties relating to environmental protection and insurance of neighborliness, as well as of other duties incumbent upon the owner, in accordance with the law or custom".
Asked to explain how the legislation they are preparing isn't suppressing the right to property, Ciocan replied: "What human rights? These are apartments to seven children. Why should the children get sick? Because the parents don't want to turn on the radiators?".
Asked to explain what would happen if homeowners need to go away for a certain period of time and the law comes into effect, the President replied: "You can go to Paris if you want, it doesn't matter!".
The official couldn't offer any details into how this law would be enforced, but the intention to study the problem is adamant. Furthermore, if there are certain people with medical conditions that require a certain temperature to be maintained in their homes (perhaps lower than the "legal" temperature), Ciocan believes that "you can't please everybody".
The National Authority for Public Utilities Reglementations is a public institution, under the Ministery of Regional Development and Public Administration. The institution manages and monitors activities in the fields of community services and public utilities. Doru Ciocan  is the ANRSC director since May 2012, previously holding the position of county counselor.