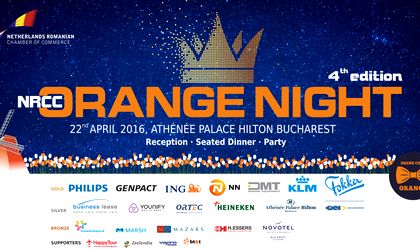 On April 22, The Netherlands Romanian Chamber of Commerce (NRCC) will organize the fouth edition of NRCC Orange Night, the flagship event dedicated to the celebration of the 49th birthday of King Willem Alexander of the Netherlands.
With each edition, NRCC Orange Night gathered more guests, sponsors and partners, confirming the event's high-quality profile and importance for the Romanian-Dutch business community.
The event, hosted by Athénée Palace Hilton Bucharest, proud member of the NRCC, will include: Official Reception (over 200 guests), Dinner with Dutch specialties (over 200 guests) and Party with live music & DJ (over 600 guests).
Her Excellency Mrs. Stella Ronner Grubačić, the Ambassador of the Netherlands in Romania, will also attend the event.
Special guest at the event is the famous Dutch singer, George Baker ("Una Paloma blanca", "Little Green Bag").
"The 2016 Orange Night edition has a very special meaning for us since NRCC celebrates its 10th Anniversary; 10 years of engaging events, sharing knowledge and creating long lasting business partnerships all aiming to support a favorable business environment in Romania. We promise our guests a memorable evening, flavored with many special surprises," said Maurits Dohmen, the executive director of NRCC.
The Netherlands has been, for many years, the largest foreign investor in Romania. The organization focuses on facilitating new business connections and partnerships for its members, bringing Romanian and Dutch entrepreneurs and businesses together. It is also part of the Coalition for Romania's Development.
The NRCC network has over 150 members, representing over 20 industries.
Romanita Oprea