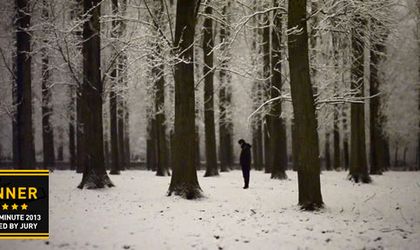 The eighth edition of the International Filminute festival has wrapped with the international jury awarding Best Filminute honors to Dutch filmmaker David Stevens for his very original and highly engaging documentary M-22 (in picture) which takes an unexpected approach to a common but relatively unexplored speech disorder.
Reflecting on the award, Filminute's executive director and jury chief John Ketchum was pleased to see such an original, powerful and insightful film affect so many jury members. "Once again we see that it's the quality of the narrative and execution that matters. Done brilliantly, as M-22 is, the impact is truly great and resonates far beyond the 60-second limit. This film will change the way people view this adversity worldwide and that's quite an accomplishment."
Martiniquan filmmaker Khris Burton impressed filmmakers and audiences alike with a mesmerizing script and exemplary performances in Maybe Another Time. For his efforts, Burton takes home both the People's Choice and Top Rated awards at Filminute 2013. The film's impact can be tracked in the more than 200 online comments it generated, leaving audiences "breathless", "startled", and "deeply impressed." This was Martinique's first appearance on the Filminute festival and competition shortlist.
The seven-member international jury, including Richard Linklater, Tor Myhren, Téa Obreht, Carmen Gray, and Jeremy Azevedo, applauded this year's collection of dramatic and performance-driven films and awarded 5 Jury Commendations to: Maybe Another Time (Martinique), Death & Life Of Desmond Wolfe (South Africa), Damn Volvoxes (Russia), Idiosyncratic (Netherlands), and Dead Bird (U.K).
Every year, throughout the month of September, Filminute presents an extraordinary array of 25 films online and across a variety of media for festival-viewers around the world to enjoy, share and discuss.
More information and full details are available at www.filminute.com.