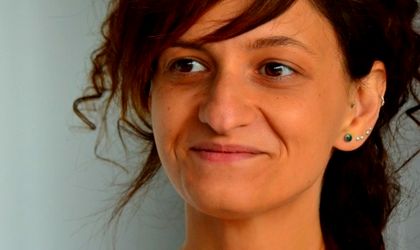 Andreea Daniel made her debut in advertising in 2006, when she started working as client service representative at Intertel Communications and, four years later, in August 2009 she became account manager at Syscom Digital. In 2011, she continued her career at iLeo, MobileWorks / SeniorHyper, the latter as account director. Starting July 2015, Daniel launched her own advertising agency named Good Vibes. In an exclusive interview for BR she spoke about the agency's role on the market, competition and the Romanian mobile marketing industry's present and future.
Romanita Oprea
What does Good Vibes really mean to you?
First of all, we think at Good Vibes as a chance of a better future for us as individuals because it gives us the opportunity to develop in a professional and friendly environment, but it also represents a chance for the industry by bringing into focus forgotten, marginalized or even lost techniques in the direct marketing sphere.
We truly believe that, even if you cannot reinvent the wheel every time, you absolutely must try to do the best there is with the wheel you already have. Moreover, the experience taught us that the results will not hesitate to appear, as long as you work with passion and devotion.
How is the agency positioned on the market? Who are you targeting?
The experience we gained working in advertising allows us to target both clients and agencies. We have tons of executions in our portfolio that prove that we are able to perfectly compound the communicational efforts of both sides.
Regarding our market position, I might say that we represent that small agency that is able to keep a good idea on track, without letting it die due to a lack of good implementation. We are implicated, devoted and we give the best we can so that, at the end of the day, things to turn out good and exactly as planned.
Moreover, one of our advantages is that, thanks to our many years spent in advertising, we have confronted difficult situations, so we are now prepared to face with experience and maturity whatever it is coming next.
Is advertising still a place to have fun and get inspired in Romania? Why?
We think it is, especially considering that we are talking more of communication than marketing. In addition, we are Romanians and everyone knows that Romanians are resourceful and have the ability to do more from less.
Even though, in the mobile marketing field, the resources are the same in recent years (SMS, mobi-banners, mobi-sites, applications and special projects), we master the abilities that can help us bring considerable results, comparable to any other communication medium. This thing is possible because we know how to use them in an intelligent manner. Therefore, such "intelligent" projects can be rewarding on all levels.
What is very important, and here is where we hope that our footprints will be visible on medium-long term, is that mobile communication to be truly relevant and appropriate in addressing the target audience both in terms of classic media consumption and context considerations.
It marks a new beginning, with new challenges, new opportunities but also new risks. We are not considering ourselves pioneers of this field, but we definitely believe that we are an enthusiastic breeze for the Romanian mobile communication market.
Regarding inspiration, by all means, the answer is also yes. There are many examples of smart crafted communication projects developed in Romania and all of them may serve as benchmarks and can stand anytime as examples in terms of improvements that can be made to achieve greatness and best practices.  Because we live in the Internet era, we can and we must use this vast ocean of collective intelligence, gathered from experiences that can be undertaken as owned, for a better understanding of the communication context in order to keep an upward trend in creativity, solution and results.
How do you see your competition and what do you offer differently?
We did not spend much time thinking about our competition. We think mostly on what to do and how to do it better, rather than on whom else is doing it.
We think at ourselves as a solution provider, that is why our full attention needs to be focused on the details, every step of the way, since we strive to build something beautiful. Therefore, we really don't have lots of time to wonder.
Beautiful projects need creative solutions in order to be brought to life and we understand that every successful product needs a well thought-out flow (from choosing  the right technologies and setting the production plans all the way to developing and putting a product to use, assimilating client and consumer feedback, generating analysis reports and optimization plans).
We treat each client with great attention, no matter the brand and we are committed to long term relationships because we know that there is always something to evaluate, fine-tune, optimize and learn for the future.
We are a team of seasoned professionals, with high background experience in developing and implementing mobile communication projects, from classical SMS campaigns to special projects using hi-tech tools as Augmented Reality. Still, we like to consider ourselves as nimble and down to earth as well as passionate.
Our work objective divides in two categories. First of all, we focus on the implementation and on the logistics of the promotional campaigns (starting with the first step, which is creating the mechanism, to the last one, which represents the final implementation, the rules, the lucky draws mechanics, the winners' validation, etc).
Second of all, our services also include the consumer activations (phone and tablet applications, special projects using technologies such as kinekt, augmented reality, etc), and we can proudly affirm that we are working with some of the most experienced and valued programmers on the Romanian market.
How would you characterize the Romanian advertising market at this point in terms of creativity and innovation?
Romania has not yet exceeded the budget barriers. From the clients' standpoint, mobile is still considered a new environment, although recent studies show that mobile, talking smartphones alone, is part of the lives of over half of Romanians and it's often the main media screen for them in terms of interactions. However, many brand managers are reluctant to allocate budgets and prefer traditional advertising for being a "safer" choice.
When it comes to the agencies' side, although there are years since communication budgets have decreased, the budget is still considered a defining element in creativity.
The mobile environmental advantage comes from the ability to juggle tight budgets to great results. However, all these things can be achieved in time and with mutual trust and perseverance because there is no magic recipe for success.
How did the Romanian market evolve when it comes to NCPs?
Compared with the last 2-3 years, more brands are considering the option of implementing a NCP because this campaign model attracts new customers and increases sales by generating trial. They can be an efficient tool both on short and long term. It is proven that a NCP can increase MS% while unfolding since it stands as a direct sales tool ("buy and win") but it can also be a tool to generate loyalty within the existing clients' pool.
That is why, the NCP mechanics is replicated from year to year, under different communication pretexts with the same ultimate aim: to remain top of mind for their customers.
It is clear that the market has evolved. However, it is very important for each such project, regardless of the category for which it is designed, to have a well-planned, well-defined strategy with clear objectives.
The communication market is saturated already and we don't want to bore our consumers. We all, brands and agencies, must do our best  to generate those special experiences that have an echo in consumers hearts and minds as well, not to be "just another promotion".