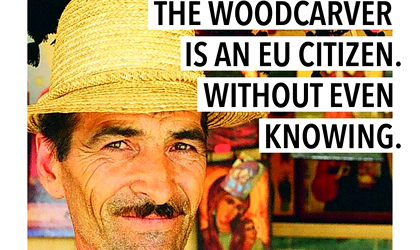 The village of Sapanta from Maramures has become known for its Happy Cemetery, with 200,000 annual visitors coming from all over the world to discover the quirky crosses decorating the locals' resting places. In recent years, the village has also become host to The long road to the Happy Cemetery, a "not-so-21-century-festival" that has reached its sixth edition this year.
Peter Hurley, the event initiator and organizer, and Vladi Paunescu, copywriter at FRIENDS\TBWA, talked about shaping the communication strategy for a traditional yet modern festival.
Where did the event idea come from, when did it start and what is it about?
Peter: The idea took shape while observing a simple phenomenon: the authentic village community from the Carpathian area is a true jewel, a treasure for humanity.
There are both quantitative and qualitative dimensions that certify it as a true civilization: 5 million Europeans have been living along the Carpathian mountain chain, for generations, in 1.5 million households. These people know how to prepare their food at the highest environmental standards, using old methods without electricity consumption, fuel or insecticides. This demonstrates an extraordinary knowledge base which we can and must promote.
Vladi: Everything Peter said. And it's also about finding a communication approach as happy as the Cemetery.
What happened this year, what activities and what was the target public?
Peter: One space, two days in which we wanted to offer every participant, whether from Sapanta, Maramures, Europe, Taiwan or whatever, an overdose of authenticity, the premise for a spiritual experience.
Vladi: Our target is composed of three categories: families coming from the city, accustomed to urban life, young folk used to everything 21st century and expats or foreign tourists attracted by Romania's "WTF", that can be found every step of the way.
This year the accent fell on interactivity. Horas to join in. Workshops to keep your hands busy. Spaces selling hand made things. Picnics in the meadow. Folk concerts in the evenings.
How did the communication concept come to life?
Vladi: How do you promote a traditional festival that has little to do with the 21st century?
It's actually not that far-fetched. Ethno-folk stuff saw a great upsurge in recent years in Romanian cities. It is a revival in a modern note. Underground folk music, folklore motifs used as modern visual language, more and more brands that are associated with folklore, hand-made and bio.
In fact, folklore is increasingly fashionable in the urban stream. It captures attention because it brings back to modernity some things that, apparently, have nothing to do with the 21st century – and that's likeable. So we promoted it as the not-so-21-century-festival.
And in every execution, adapted to each of the three types of audiences, we compared the 21st century with not-so-21-century. Executions are: posters, postcards (used as flyers), online communication on social media.
What meant for you being part of the communication process for the event?
Peter: I didn't create anything here. I just helped piece things together. This event is about people here and their work, their art. They are all artists, each in his unique way. This is just their chance to shine.
Vladi: It's a kind of translation and adaptation, actually. Meaning, we translated what happens in Sapanta into the modern language of urban population. Everything with a happy note, just as it happens in Sapanta. And it's good when you bring happy to the people.