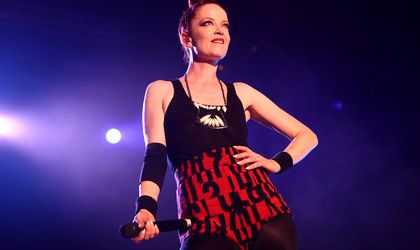 I must begin with a confession: though I have been to previous B'Estfest editions, this was the first time I have seen since the festival moved to the new location in Tunari. So, everything I saw, I saw it with fresh eyes.
After a trip packed like sardines in a bus (the organizers put at the disposal of festival goers a special B'Estfest line, but people started arriving later in the day and congestion couldn't be avoided), it was time to check at the entrance.
A nice lady from the security checked my purse, asking whether I carry drugs. I answered: "Nope" ("But even if I did, do you think I would tell you?" I thought 😆 ), and then I was right in. Since no plans had been made in particular, I just went with the flow.
People were swarming in, couples, youngsters walking about in groups, meeting friends, parents and children. There was bungee-jumping on one side, tattoo and piercing on the other, queues at food and drink stands, chock full terraces and film areas, and generally, a lot of commotion in the blaring music coming from the several stages of the festival.
Following the voice of singer Bogdan Mezofi, I arrived just in time to watch Romanian act Grimus play one of their best songs, Backseat Driver. There were still not many people in front of the stage, but I had seen them in concert before and trusted Mezofi ' s ability to gather the scattered sheep to his yard. Crowd mingling is one way in which he connects with his fans, but this time the fence kept him from getting too familiar. Sadly, I only arrived towards the end, managing to hear Insanity, and a moving rendition of Umbre (Shadows). However, for me, their concert seemed to end "In A Glimpse."
On the neighboring stage, hip-hop act Parazitii were aching to start their first gig at B'Estfest playing their outspoken songs in front of a crowd that was building up steam. While flipping the bird, Cheloo & company encouraged the public to give their due to the Romanian police, gendarmerie, and the president (just at the time when Traian Basescu was being suspended by Parliament) and even said "I hate Coca-Cola" right on the stage sponsored by Coca-Cola.
Closing the show with the song Din Inima Strazii, they gave the floor to another established Romanian hip-hop act, BUG Mafia, who featured a very sexy-dressed Loredana, for two of their songs, Ridica-ma la Cer (Lift Me Up to The Sky) and Fara Cuvinte (Speechless).
Songs such as Pantelimonu' petrece (Pantelimon is Partying) and Poveste fara Sfarsit (Never-ending Story) animated the crowd. Before the end, Tataie promised fans that they would not get rid of him so easily, because he would go onstage and play a stanza in every concert at B'Estfest. Guess they stopped him at the entrance, since he didn't show up at the Garbage show.
Garbage- my Kind of People
About twenty-minutes after midnight, the most expected concert of the day began.
Dressed in red shorts, with a black top and her fiery red hair raised in a bun, songstress Shirley Manson caught the eye right from the start, and engaged the audience throughout the energetic performance of the Scottish act.
Flanked by bassist Duke Ericsson, Steve Marker (guitars, keyboards), Duke Erikson (guitars, keyboards, bass), and Butch Vig (drums, percussion), Manson said coming to Romania is "f*****g mental," especially since two of the band members have Romanian lineage.
Stupid Girl and I Think I'm Paranoid were among the tracks played in the beginning, soon followed by other older hits such as Queer, alongside newer songs like Blood For Poppies, the single off their fifth studio album Not Your Kind Of People, launched in May, 2012.

"This song is for those who do not really fit in, who feel they don't belong anywhere," said Shirley introducing the upbeat Cherry Lips, one of their best hits.
With a glass of Scottish whiskey in hand, Manson promised that next time she will talk in Romanian, especially since everyone's English here is "ridiculous." ( she meant that in a good way).
#1 Crush was one of the most pleasant surprises, which I had forgotten about and rediscovered. Push It came later in the show: "This is the noise that keeps me awake/My head explodes and my body aches!"
Never realized how many fine solid hits Garbage have until they played them all together on that night.

Shirley Manson proved once more that she is one of the best female voices in rock. Her voice sounded top notch, at times inciting, alluring, grave, shrill, strong, fitting right on each of the songs.
A big absence (for me) was The World Is Not Enough, the soundtrack from the James Bond franchise which Garbage did not play this time. Waiting for next time when Shirley will speak Romanian, too!
Picture by  Alex Barbulescu, courtesy of Emag!c Entertainment

Otilia Haraga