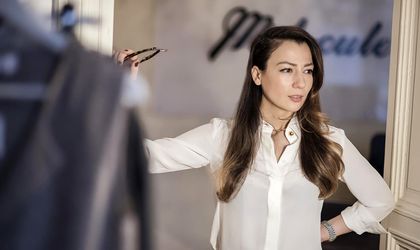 For several years now, Molecule F has been the place to look for pieces by Romanian designers: the online platform currently has 43 designers and over 800 products, ranging from clothes to interior design products and even cosmetics and perfumes. But how did all these come together? BR went into the dressing room with Mirela Bucovicean, CEO of Molecule F, to see how this business was created.
Tatiana Lazar
You have been an entrepreneur from the beginning. What was the trigger to start your own business?
It's true, I started as an entrepreneur under the supervision of my mother since I was 14 years old. Over time, the desire to learn as many domains as possible sometimes took me down the employer path and sometimes down the employee path. The experience I gained while working in multinational companies formed my working system and the satisfaction of my entrepreneurial successes made me persist, as well as did my inherent failures. These choices are the result of my education, focusing on my financial independence and success.
What's the story behind the brand?
In 2008, I decided to close the business that I carried out at that time in real estate. Our clients were foreign investment funds, listed on the stock market, while our main activity was brokering land, seconded by residential development consultancy projects. Then I took a sabbatical year but no opportunity to start a new business presented itself. I was terribly bored. Slowly but surely, through my presence at many social events, I became a "socialite – glitterati."  However, it wasn't in vain because it gave me the chance to discover Romanian designers and I began to love their work. More as a hobby than a business decision, we created Molecule F, the first online platform in the country which exclusively promoted and sold the work of Romanian designers.
What does Molecule F mean in the national fashion industry? And in the worldwide fashion industry?
To tell you the truth, at this time we do not matter much in the worldwide market. By contrast, in Romania, we enjoy the benefit of being the first on the market; we are considered a benchmark in the creative industries, not only in fashion. It's not hard to achieve awareness; it's hard to keep yourself in the top position. We make efforts every year, with each new project.
How do you select the designers?
What we look for in our collaboration with designers is innovation, particularity, that red thread that demonstrates the designer's creative fingerprint for every piece he/she creates. Then we pay attention to the price – quality ratio, the materials used, the cutting, finishing and last but not least, the seriousness of our supplier. Not all creatives have assimilated what a commercial agreement means, what the responsibility for partnership entails and, most importantly, the promise we make to our final customer.
For your business, what does online sales versus in-store sales mean?
Although they support each other from an image and even sales perspective, we consider them separate businesses. Each must make a profit. The online platform has the 24/24 availability worldwide advantage and a wide selection of products. On the other hand, in-store you have a tactile experience as well as the certainty that what you buy fits you. In Romania, online buying is still considered a risk. Due to the lack of information or because of convenience, people do not consider the possibility of returning an order and receiving their money back in full.
Why did you open a concept store now? Can you give me some details about the investment in the concept store, financial expectations, and sales until now?
We are not at our first offline experience. In 2013, we opened Eva – Romanian Design in partnership with DC Communication. The project lasted more than a year and a half. Now, I think the place is more important. I also had a discussion with Sebastian Mahu from Promenada mall. He told me about this mall's client profile, about their future directions in marketing and retail. I believed in their plans, and they believed in us. The construction of such a commercial space costs somewhere between EUR 100 and 400 per sqm, depending on which utilities are provided. For the first year, we hope to sell EUR 40,000 per month. After two weeks, we are at 70% of the target reported per day, but we haven't started any guerilla marketing campaign so far. Experienced retailers think it's a very good start so it remains to see how it will evolve.
Tell us more about Molecule F's future plans.
International, international and again, international. This year we heavily invested in online marketing to promote Molecule F in other international markets. I also have an educational platform in mind; it's a project on which I have been working for two years now, but more details will come when the time is right.