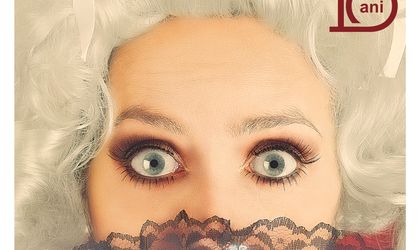 The 10th edition of the Bucharest Early Music Festival will begin at Sala Radio (Radio Hall) on the 20th of October 2015, at 19:00, with "Inspired by Italy" concert, interpreted by The Baroque Orquestra of the European Union (EUBO), led by conductor Lars Ulrik Mortensen. Georg Friedrich Händel, Antonio Vivaldi and Tomaso Albinoni will be part of the program.
Since it was founded, back in 1985, EUBO has constantly proved the qualities of an unique, international ensemble. The members of the baroque orchestra are by far among the most talented young European musicians, specialized in early music interpretation and carefully selected year after year. Besides their annual European touring, EUBO has recorded an impressive number of audio albums, the last four being recorded under the musical guidance of Lars Ulrik Mortensen, the current conductor of the ensemble. EU's Baroque Orchestra received European Union's Cultural Ambassador distinction, during the presidency of José Manuel Barosso.
The present edition, a jubilee one, is broader and more complex, comparing to our previous ones and it is held under the High Patronage of Romania's President.
The Bucharest Early Music Festival will take place between the 20th of October and the 28th of November at the following venues: Sala Radio (Radio Hall), Palatul Bragadiru (Bragadiru Palace), Muzeul National Cotroceni (Cotroceni National Museum), Muzeul Taranului Roman (Museum of Romanian Peasant), Biserica Anglicana (Anglican Church) and Foisorul de Foc (The Fire Tower). The festival is counting 14 events, with the participation of artists and ensembles from over 10 countries.
On the stages of our festivals you will hear instruments like the triple harp and the gothic harp, the lute, the theorbo, the renaissance guitar, the harpsichord, the baroque violin, the vielle, the spinet or viola d'amore. For the first time in Romania, the festival will host a viola organist concert, an instrument designed over 500 years ago by Leonardo da Vinci and brought to life by the polish pianist Slawomir Zubrzycki.
In our program you can find also the following concerts:
"Il giardino di Giulio Caccini" (Early music band Faenza – France; 28th of October 2015, Cotroceni National Museum), "The English Muse" (Emma Kirkby – soprano, Great Britain, Jakob Lindberg – lute, Sweden; 1st of November 2015, Bragadiru Palace), "Early music strings" (The series of five solo concerts; 9th – 13th November 2015, Bragadiru Palace, Anglican Church), "Simply Bach" (Melinda Beres – baroque violin, Raluca Enea – harpsichord, 15th of November 2015, Cotroceni National Museum), "Royal Fantasies – Consort music for three viols" (Early music band "The Little Light Consort" – Switzerland; 19th of November 2015, Cotroceni National Museum), "Bazar" (Romanian early music band "Trei Parale" – 22nd of  November 2015; Cotroceni National Museum), "The sound of da Vinci" (Sławomir Zubrzycki – Poland, Viola organist; 24th of November 2015, Bragadiru Palace), "Bach by Night" (The Baroque Orchestra band "Il Gardellino" – Belgia; 28th of  November, Radio Hall).
Organizers: Antiqua
Co-organizer: Medieval Praxis
Co-producer: TVR 2
Partners: Ministerul Culturii, Institutul Cultural Roman, ARCUB (Programul "Esti Bucuresti"), Palatul Bragadiru, Muzeul National Cotroceni, Muzeul National al Taranului Roman, Institutul Polonez Bucuresti, Institutul Francez, Centrul Cultural Maghiar, Societatea Muzicala, Festivalul de Muzica Veche Miercurea Ciuc.
Sponsors: Aqua Carpatica, Domeniile Samburesti, Brancoveanu XO, Dacia
Media Partners: Radio Romania Actualitati, Radio Romania Muzical, Radio Romania Cultural, Radio Bucuresti FM, Radio 3Net, RFI, Observator Cultural, Nine O'Clock, Romania-Insider.com, CityCompass.ro, CalendarEvenimente.ro, ArtOut.ro, Men"s Health, Marie Claire, Cosmopolitan, Beau Monde, Casa Lux, Ziarul Metropolis, Business Review, Zile si nopti, Veioza Arte.
Details on www.earlymusic.ro.
Tickets are available on www.eventim.ro, in Germanos, Orange, Vodafone, Domo and Carrefour stores, Carturesti and Humanitas bookstores and OMV gas stations.