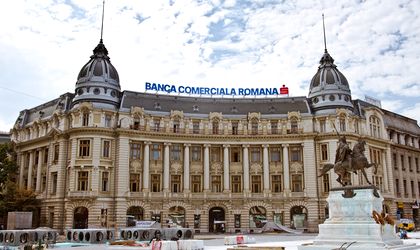 Germany and Austria remain committed to Romania as their combined foreign direct investment of over EUR 15 billion sustains the recovery of the local economy. The Teutonic countries are focusing their investment on the oil and gas sector, renewable energy, financial services and retail, at a time when the Euro zone has to put its own fiscal house in order.
By Ovidiu Posirca
Economic growth in the Euro zone took a hit in the first half of this year, as the area is currently grappling with a sovereign debt crisis in peripheral countries. The economy of the 17 member states that have adopted the Euro remained stagnant in the first quarter and shrank by 0.2 percent in the second quarter, according to Eurostat.
Germany, dubbed Europe's economic power house, added 0.3 percent to output in the second quarter, while Austria moved up by 0.2 percent. Romania boasted the fourth largest economic growth in Europe of 0.5 percent in the second quarter.
The Euro zone woes impacted foreign direct investments (FDI) in Romania, which fell by 30 percent to EUR 621 million in the first semester. Nonetheless, companies from Germany and Austria haven't put the brakes on investments and have announced plans to develop businesses in manufacturing and infrastructure, among other fields.
Close ties with Romania
Romania hosts over 19,000 companies with German capital, whose FDI amounted to EUR 5.6 billion last year, according to the Romanian-German Chamber of Commerce and Industry. German FDI stood at EUR 424 million last year. Meanwhile, Austrians have set up 6,300 companies locally, which had invested EUR 9.4 billion by the end of 2010, according to central bank data.
"We estimate that there are roughly 1,000 active Austrian investors in Romania, many of whom have more than one company set up here," said Arnulf Gressel, commercial attaché at the Austrian Embassy.
Germany is Romania's most important commercial partner, as the total trade volume between the two countries last year stood at EUR 17.2 billion, which was 17.7 percent of Romania's total foreign trade, according to data from the German Embassy. Romania received EUR 8.7 billion worth of German imports, while exports amounted to EUR 8.4 billion.
The first five months of his year saw EUR 3.5 billion in exports and EUR 3.7 billion in imports.
Romania's trade with Austria reached almost EUR 3 billion last year, close to pre-recession levels. Austrian exports grew by 10.3 percent in 2011 to EUR 1.8 billion, while imports grew 18.7 percent to EUR 1.1 billion, according to data from the Austrian Embassy. Trade is expected to expand by a further 5 percent this year.
Engineering German investments
German companies have developed a supply chain for the automotive industry after building plants that produce car components.
"Romania will remain attractive due to its geographical location and relatively low labor costs. It is an established location for the German automotive industry," said Dr. Sonja Kreibich, economic and commercial counselor at the German Embassy.
Continental, the tire manufacturer, is set to invest EUR 6 million in expanding its Timisoara plant, creating 400 new jobs that will join the 700 existing ones. Continental has seven production plants and three R&D centers. The firm employs 10,500 people locally and has invested over half a billion Euros in Romania.
Meanwhile, the German Bosch Group will make a EUR 77 million greenfield investment in a car component plant in Jucu, Cluj County. And the firm will put another EUR 43 million into adding new capacities in the Blaj factory, Alba County.
Kirchhoff Automotive will manufacture components for the new Ford B-Max model in Craiova, following a EUR 12 million investment that was inaugurated this April.
Draexlmaier Group announced in late 2011 plans to extend its Satu Mare plant where it produces car cables. The company planned to make a EUR 30 million investment, according to the government, adding to past investment of EUR 200 million. The German group employs 12,000 people and has five plants in Romania, which manufacture electrical systems and car components.
Premium Aerotec, the German producer of aircraft components, opened last year a plant in Ghimbav, Brasov County, following a EUR 40 million outlay. The company plans to invest another EUR 50 million to accommodate manufacturing facilities for Airbus models. It currently has more than 500 employees in Brasov.
The German utility E.ON will invest around EUR 78 million in upgrading gas and power distribution networks and has announced its intentions to set up two business service centers in Cluj and Berlin. The Berlin center will have 500 human resource specialists, while accounting professionals will work in Cluj. The centers will create around 1,100 new jobs and should become operational by 2015.
Meanwhile, Romania's incentivized renewable industry has attracted Steag, Germany's fifth biggest electricity provider, which will invest EUR 200 million in a 108 MW wind farm. The utility firm said the Crucea North park will become operational by the end of 2013.
The industrial gas producer Linde Gas opened this summer a new air separation unit at ArcelorMittal Galati steel company, following an investment of over EUR 100 million that began in 2008. The firm has invested EUR 260 million in Romania since 1996.
Elsewhere on the market, German retailers are expecting consumption to bounce back and have continued their investments in domestic facilities.
The German Metro Group controls the Metro Cash & Carry and the Real hypermarket chain, which employ more than 12,000 people. Metro launched this March a franchise for independent retailers called La Doi Pasi. It was taken up by about 200 local grocery stores in four months.
The German group Schwartz has further developed its retail presence through discount retailer Lidl and hypermarket chain Kaufland.
Reaching for the top – Austrian style
Romania holds a commanding position in the banking and insurance sectors and has kept the investment tap open for energy, both from traditional and green sources. Austrian retail players also continued to expand locally. Construction and infrastructure were other sectors that remained on the investment radar of Austrian companies.
BCR, majority owned by Austrian Erste Group, is the largest lender in Romania, holding 20 percent of the market, with assets of around EUR 17 billion. However, the slow recovery of the local economy and higher provisioning led to a loss of EUR 125 million in the first half of this year. BCR continued to finance SMEs, but this proved to be a double-edged sword, as these companies took the brunt of the crisis and are having issues in paying back their loans. Hence, the volume of non-performing loans reached almost one quarter of the total loan book, which was over EUR 12 billion in the first semester.
BCR's new CEO, Tomas Spurny, said the lender will make every effort to reverse the "disappointing results." The bank has strong support in Erste, which purchased last year a 24.1 percent stake in BCR from four minority shareholders in a deal worth around EUR 400 million. This gave Erste control of around 90 percent of BCR.
Raiffeisen Bank Romania registered an increase of EUR 50 million in the first semester, which was 28 percent of the level during the same period of last year. The lender's assets gained 9 percent to EUR 5.6 billion.
UniCredit Tiriac Bank registered a net profit of EUR 17 million in the first half, which was a 17 percent decrease from the same period of last year. However, it boosted lending by almost 20 percent to EUR 3.8 billion, due to higher demand form SMEs.
Meanwhile, real estate developer Raiffeisen Evolution is in the final constriction stages of the Sky Tower office building, which is part of Floreasca City Center.
Real estate investor and developer Immofinanz Group announced this year plans to build new office buildings in Iride Business Park. In Romania the Vienna-listed firm holds a portfolio comprising shopping centers and office buildings.
The local operations of Vienna Insurance Group (VIG) were hit by portfolio restructuring. First half gross written premiums took a nosedive of 17 percent to EUR 236 million leading to a loss of EUR 4.1 million.
VIG leads the Romanian insurance market as it holds controlling stakes in Asirom, BCR Asigurari de Viata and Omniasig VIG. The retail sector remained vibrant as companies like Baumax, Billa and Kia continued to increase their local footprint. Energy is still a key industry for Austrian companies, although it requires a significant amount of capital.
Oil and gas firm OMV Petrom registered a first half profit of EUR 455 million and added 19 percent in sales to EUR 2.7 billion. The financial figures were supported by higher oil prices and a stronger US dollar. OMV Petrom, which is Romania's largest corporate taxpayer, will annually invest between EUR 800 million and EUR 1.2 billion in the years to come, according to Mariana Gheorghe, the firm's CEO.
OMV Petrom has boosted its exploration expenditure by 23 percent to EUR 67 million, due to exploration drilling in the Black Sea. The project is being developed with the US ExxonMobil. The companies announced this winter that potential gas deposits had been found off the Romanian shoreline.
This August Petrom began to operate an 860 MW gas power plant in Brazi, following a EUR 500 million investment. The firm also operates the 45 MW Dorobantu wind park in the Dobrogea area.
Verbund, the leading electricity company in Austria, commissioned this month a 100 MW wind farm, close to the Romanian Black Sea coast. Another wind farm of similar capacity is currently under construction.
Wood working industry and related biomass plants have been established by companies such as Egger, Kronospan and Schweighofer, with operations in Sebes, Brasov and Radauti.
Looking forward, Austria intends to develop the automotive supply business, while Germany is planning further investments in the automotive, services and retail sectors.
Representatives of both countries stated that Romania remains an attractive market, although investors are grappling with regulatory insecurity and lack of transparency in public procurement.