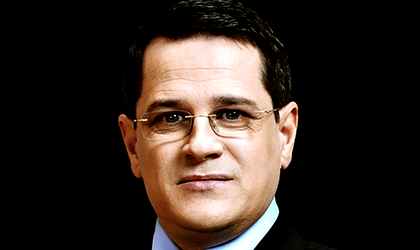 The national terrorist alert level in Romania is kept at blue, cautious, the Romanian Intelligence Service (SRI) reported, as quoted by Agerpres.
"The alert level under Romania's National System for Terrorist Alert is staying at blue, cautious. That means available information so far does not indicate any direct connection between the events in Brussels and risks against national security in Romania. Nevertheless, SRI has taken all the necessary measures to ensure the safety of the Romanian nationals. Our hearts go out to the families of those who died in these criminal attacks and we are collaborating with our partners in the National Terrorism Prevention and Combat System as well as similar organisations in the Euro-Atlantic space," SRI director Eduard Hellvig (pictured) was quoted as saying.
The reaction of the authorities comes following two explosions at the Brussels Airport and one at the Maelbeek metro station near the EU buildings this morning. The death count has reached 34, while the number of injured people has climbed to some 180, of which 20 killed and 106 injured in the metro blast. There were no Romanian victims, PM Dacian Ciolos announced, after presenting condolences to people affected by the crisis.
Blue Air announced the flight it was supposed to take off from Bacau to Brussels today has been cancelled, with the company inviting passengers to contact it for alternatives. Another Blue Air flight that was supposed to go from Bucharest to Brussels and back to Bucharest tomorrow morning has been rescheduled for the late evening "due to high uncertainty concerning the moment the Brussels Airport will open".
Tarom has also announced that flights scheduled during these two days (Tuesday and Wednesday) from and to the Zaventem Airport will be cancelled, with passengers having the option to reroute their travels through the airports in Amsterdam, Paris, Frankfurt, Munchen and London. One of the company's flights that was due to land in Brussels in the morning was rerouted to Amsterdam, where it landed safely.
The explosion inside the airport has been confirmed as a suicide attack. Several online accounts linked to ISIS have expressed support of the attacks, and after a period of silence the terrorist group has claimed the attacks.
Belgium will hold three days of national mourning.
Natalia Martian