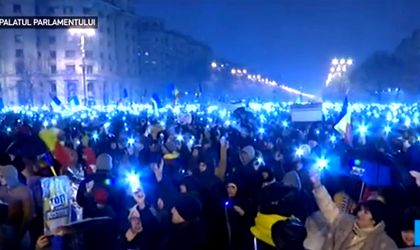 Some 40,000 people were protesting on Saturday evening in the center of Bucharest against the controversial amendments to the judiciary passed by the center-left ruling coalition PSD-ALDE. Protesters occupied Universitatii Square following brief incidents with the teams of gendarmes that were present in the location.
Romanians from across the country came to Bucharest to attend the protest which had been announced for several weeks on Facebook and other social media platforms. The march is organized under the banner of "#Rezist", a civil society movement which supports the country's anticorruption efforts. Leaders of Romania's political opposition said they backed the protests.
"Justice, not corruption" and "Thieves" shouted the protesters in the Romanian capital. Tens of thousands more gathered in other cities such as Timisoara, Cluj, Iasi, Sibiu, Brasov and Oradea. In Bucharest, people started marching towards the Parliament building two hours into the protest. Smaller protests were recorded in European cities with a significant Romanian diaspora.
In Timisoara, people carried a cardboard red squid which had the heads of politicians in power on its tentacles.
People have expressed their anger after the Parliament swiftly voted at the end of last year major changes to the justice laws, despite warnings from the US Department of State and European institutions.
The draft bills were submitted to president Klaus Iohannis for approval. EU leaders have suggested that the president should ask the Venice Commission to review the changes before making any decision.
The top brass of Romania's judiciary, including the head of the Anticorruption Directorate (DNA), Laura Kovesi, have warned that the amendments risk derailing Romania's campaign against corruption of high ranking political officials.
The protests come on the back of an ongoing political crisis marked by the resignation of PM Mihai Tudose.
The Social Democratic party decided to withdraw the political support for Tudose, who was accused by PSD's leadership of starting conflicts with certain ministers and party officials. Meanwhile, president Klaus Iohannis has designated MEP Viorica Dancila as the new PM. It is expected that Romania might have a new government by the end of this month.
The PSD has changed two PMs in one year and president Iohannis said it was giving another chance to the social-democrats in government.
The next test for Dancila is the vote in Parliament. She is likely to get the top job at Palatul Victoriei as the ruling coalition holds the majority of seats in the legislative body.