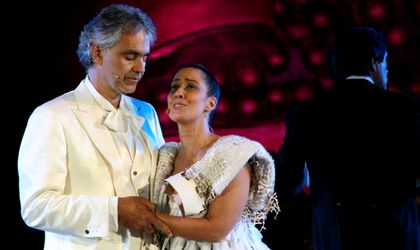 Italian tenor Andrea Bocelli will perform for the first time in Romania on May 10 of next year, in Bucharest's Constitutiei Square, according to Project Events, the event organizers.
Although he made his debut in 1990, he received international recognition years later for his performance of songs such as  "Time To Say Goodbye", "Con te Partiro", "Vivo Per Lei", "Besame Mucho" and "Nessun Dorma".
Bocelli was born on September 22, 1958, in Lajatico, to a family of farmers. Born with severe glaucoma, he went completely blind at 12, after a football accident. Shortly after, he won his first music competition, "Margherita d'Oro in Viareggio" with "O sole mio".
International success with "Con te partiro"
In 1996 the melody of the song "Con te Partiro`" (and later its arrangement as a duet with Sarah Brightman with the title "Time to say Goodbye") was heard in every corner of the world. The Bocelli phenomenon was talked about everywhere: an artist whose break through into the recording world – with an album entitled Romanza – was taking down all records. In Germany, for example, the duet became the best selling single of all times.
At the same time Bocelli embarked on his operatic adventure, with a careful management of his voice. In Torre del Lago, in the summer of 1997, Bocelli performed parts of Madame Butterfly and Tosca, and also the "aria dei 9 do" from La fille du regiment which received a standing ovation. In 1998 came a new debut, this time playing Rodolfo – alongside Daniela Dessi – in Puccini's La Bohème inCagliari. That same year he met conductor Zubin Mehta and this led to the beginning of a successful collaboration between them.
In 1999, Bocelli performed at the Arena inVerona for the first time where he was applauded by an audience of eighteen thousand. Later that year, his album Sogno was released, which included Andrea's duet with Céline Dion of "The Prayer", which had already won the Golden Globe Award and was subsequently nominated for an Oscar.
From this point on the Bocelli legend, supported by huge record sales, was unstoppable. His concerts would find the most celebrated directors on the podium such as Lorin Maazel, Seiji Ozawa, Valeri Gergev, Zubin Mehta and Myun Whun Chung.
Tickets for the Italian tenor's performance inBucharestare priced between RON 150 and RON 1.400. The tickets can be bought online on biletoo.ro, blt.ro, bilet.ro, bilete.ro and myticket.ro or in Unirea Shopping Center, Muzica store, Sala Palatului, Diverta and Eminescu bookshops, as well as Unirii metro station.
Oana Vasiliu