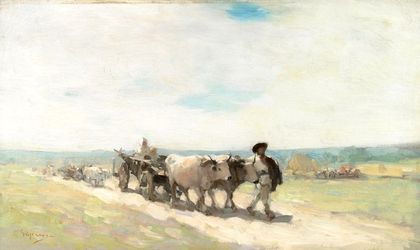 The National Museum of Art of Romania prepared several temporary exhibitions for the first half of the year, exploring various aspects of Romanian arts and culture but also international ones.
Testimonials. The Frescoes from the Argeş Monastery
Until May 26, 2013
Location: National Museum of Art of Romania, ground floor of the National Gallery
The Argeş Monastery, one of the most representative ensembles of Romanian culture, was restored between 1875 and 1882 under the supervision of architect André Lecomte du Noüy, a practitioner of French conservationist principles. The original mural painting had to make room for an entirely new one: only thirty-five fragments were considered to be worth preserving. Thirty-one of them were restored between 1990 and 2012 and are now exhibited together for the first time.
These include votive paintings, several historical figures, a number of saints, primarily military, and a large Deesis scene, forming a substantial body of work that bears witness to the quality of mural painting in Wallachia in the 16th century and the complex political and cultural message articulated by its rulers.
Goya, the all war historian: The Disasters and war photography
Until January 27, 2013
Location: National Museum of Arts of Romania, the Auditorium Rotonda, Stirbei Voda Street
The exhibition presents 82 engravings from the famous Disasters of War series by Spanish painter Francisco de Goya (Spanish: Los Desastres de la Guerra) over 1810-1820, which depicts scenes from the Spanish War of Independence (1808-1814) against Napoleon's troops. The artist etched the horrors of war, its cruelty, fanaticism, terror, injustice, suffering and death. Alongside Goya's engravings, the exhibition includes photographs from the Spanish Civil War (1936-1939) taken by notable photographers such as Robert Capa, David Seymour, Gerda Taro, Augusti Centelles and Alfonso Sanchez, as well as numerous local and anonymous counterparts.
The National Myth: Visual Arts and Romanian Identity (1830-1930)
Until February 13, 2013
Location: National Museum of Arts of Romania
Almost 250 paintings, sculptures, prints, drawings, and ceramics by major Romanian modern artists spanning the period from 1830 to 1930 trace the prevailing themes of Romanian history. Barbu Iscovescu, Constantin Daniel Rosenthal, Carol Popp de Szathmári, Gheorghe Tattarescu, Theodor Aman, Nicolae Grigorescu (in picture), Ioan Andreescu, Ştefan Luchian, Nicolae Tonitza, Oscar Han, Camil Ressu and Dimitrie Paciurea, among others, all made important contributions to framing an enduring set of almost "mythical" references to national identity in times of great political and social upheaval.
Oana Vasiliu