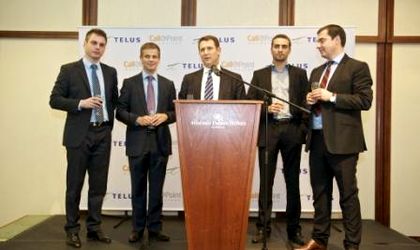 Provider of business process outsourcing and contact center solutions Telus International has purchased a stake in CallPoint New Europe, an operator with 1,000 employees in Romania and Bulgaria, which signifies Telus' entry onto the European market.
Following this transaction, the European Bank for Reconstruction and Development (EBRD) and Global Finance are no longer shareholders in CallPoint. Telus International, the international division of Telus Canada Corporation, is the new majority shareholder in the company.
In the transaction, Telus was represented by Pop Pepa law firm while CallPoint was represented by DGKV from Sofia, Bulgaria.
"With the entry of CallPoint New Europe in the Telus International family, we are developing our presence regionally by expanding the contact center operations on two important markets in Europe," said Jeffrey Puritt, president of Telus International.
Telus International has currently 13,500 employees and offers support in languages such as English, German, French, Spanish, Italian, Portuguese. Following this deal, it will also add the capacity to offer support in Hebrew, Arabic, Dutch, Russian, Turkish, Scandinavian languages etc.
"CallPoint New Europe is now supported by Telus, one of the leaders in telecommunications in Canada, with business of EUR 8.3 billion, and by Telus International, the Telus call-center, BPO and IT outsourcing division, which has solid experience in customer service in numerous industries and develops operations in North America, Latin America, the Filipines and Great Britain," said Xavier Marcenac, president Telus International Europe & CEO at CallPoint New Europe.
CallPoint New Europe was founded in 2004 and had four working points in Eastern Europe.
The company received financing from the European Bank for Reconstruction and Development in 2011, and offered support in 28 languages, having expertise in tourism, e-commerce, financial and high-tech.
Thus, in July 2011, the EBRD bought an EUR 3 million stake in CallPoint which has four delivery centеrs: in Sofia and Plovdiv, in Bulgaria, and in Bucharest and Craiova, in Romania, according to seenews.com.
Telus posted a turnover of EUR 8.3 billion and has 12.8 million clients globally.
 Otilia Haraga