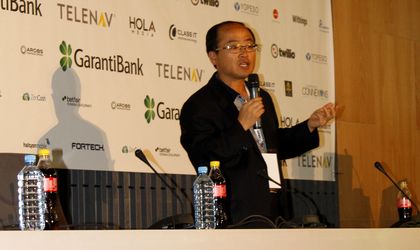 With the takeover of the firm skobbler earlier this year, Telenav, creator of the Scout app, extended its operations to Romania, and now has an office in Cluj-Napoca. Co-founder, president and CEO HP Jin tells Business Review what new products the company is working on and how its Romanian operations fit into its overall game plan.
[restrict]
By Otilia Haraga
"We recently switched to OpenStreetMap (OSM) data for our Scout for Android and Scout for iPhone personalized GPS navigation apps in the US. OpenStreetMap, the 'Wikipedia of Maps,' is 100 percent crowd-sourced," Jin, who was a speaker at this year's Techsylvania in Cluj, told BR, explaining that the application enables edits to be published every minute, resulting in maps that are often more detailed and up-to-date than commercially available ones.
"Through a rebrand of the popular skobbler GPS Navigation app for iOS and Android, Scout is now available in over 50 app store markets with maps and navigation for almost 200 countries, including Romania. skobbler's GPS Navigation app was the first professional OSM navigation app in the world," Jin tells BR.
His firm acquired skobbler in January for approximately USD 19.2 million in cash and USD 4.6 million of company common stock, according to Telenav officials.
With offices in Germany and Romania, skobbler was the first company to launch a commercial navigation app using OSM for both Android and iOS devices, which is available in app stores in 49 regions with worldwide map coverage, according to Telenav.
GPS Navigation by Scout is available in Romania for both iOS and Android and is the top ranked paid GPS navigation app in the Apple App Store in Romania, according to Jin.
Recently, Telenav launched a new Scout for Developers program, featuring a new Scout OSM Maps and Navigation SDK.
"It is the first commercial-grade navigation solution based on OSM for mobile app developers worldwide. It is also the first to offer seamless hybrid (online and offline) map technology. The Scout for Developers program includes a new Scout OSM Maps API for desktop and mobile websites. (…) This solution is dramatically different from other options available, like the Google or Apple Maps API, which provide very limited customization around look and feel or branding," says Jin.
Telenav's headquarters are in Sunnyvale, California. Employees from various departments, including product development, engineering, marketing, customer support, human resources, finance and business development, work there, according to Jin.
The firm has other US offices in Los Angeles and Detroit.
In South America, Telenav has an office in Sao Paulo that supports its South American mobile carrier solutions.
In China, Telenav has locations in Shanghai and Xi'ian, "primarily consisting of engineers who support all of our products, including Scout for Phones and Scout for Cars," says the CEO.
Finally, in Europe, Telenav has operations in Berlin, Germany and Cluj-Napoca.
"Most of the team members in Cluj-Napoca joined us as part of the recent acquisition of skobbler, as this was the location of one of skobbler's main offices. This team continues to focus on developing Scout navigation technology and products for international customers, consumers and Auto OEMs," says Jin.
More than half of Telenav's overall team works in R&D and engineering.
In Romania, the firm has a staff of approximately 80. "These employees are engineers and product developers with deep expertise and experience developing OSM-based GPS navigation," said Jin. "We continue to remain focused on building great OSM-based navigation products and haven't announced any additional expansion at this time."
[/restrict]