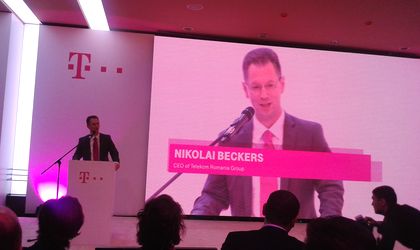 This year, Telekom Romania will invest more than EUR 160 million into developing its telecommunications infrastructure, according to the information presented during a press conference on March 12.
"In 2015, we will redirect the most important part of the forecast investments, of over EUR 160 million, to the further roll-out of our network, to ensure technological leadership. A part of this amount will come from the divestment of non-core assets, such as real estate and copper infrastructure, which will generate capital to deliver this goal. Basically, in 2015, every meter of monetized old technology, such as copper, will be transformed into a new, modern one, such as FTTH", stated Nikolai Beckers, CEO of the Telekom Romania operations.
Telekom Romania intends to sell this year its real estate assets in order to concentrate on its core business. "A sum of EUR 25 million could be used to cover 350,000 households in Romania with fiber or to pay 1,500 employees of Telekom Romania," said Beckers.
He said that in 2014, 28 real estate assets of various sizes were sold by the company and all the money that came out of these deals were invested in equipment.
"We are not a real estate company, we are a telecom company and we need this money to invest in our core business. The real-estate strategy is not new, it was presented to the board in 2013 and there were iterations on this in 2014," said Beckers.
One of the real estate assets in the portfolio of Telekom Romania is the Telephone's  Palace, which the company has tried to sell before, with no success so far. "I understand there are emotions related to that, some of them I understand, others I do not. The building is not in very good condition at the moment. This tender has expired and we have not sold it. Will we sell it in 2015? I can't give you an answer at the moment. Is it at the moment a priority for the company? Clearly not," said Beckers, who assured the media that all sales of real estate assets will be transparent.
This year, Telekom Romania will continue the IP migration of current customers, which is another top priority.
The company's CEO also said Telekom Romania is working on specific TV content in collaboration with partners. "The biggest share of customers is DTH. We have IPTV on both an old and a new platform, and IPTV is a priority for us" said Beckers.
The company will also continue the expansion of fibre optic based technologies (FTTH/FTTB). The estimated household footprint for fibre at the end of 2015 is over 1 million, while by the end of 2016, it is deemed to reach 2 million.
On the mobile segment, the company's 4G coverage will double until year-end.
At the moment, Telekom Romania has 7,500 employees. "We did some outsourcing contracts in 2014, one of them with Ericsson. This has worked very well with satisfaction for many employees. We don't have any plans in the future to further reduce the team. But will we continue further efficiency measures? Yes," said Beckers.
The initiatives meant to monetize unused copper infrastructure will continue, as well as the efforts to become the number one wholesale back-haul provider.
To improve customer experience, Telekom will be implementing a strategy so that fixed-mobile convergent customers will be served in less than 10 seconds in call centers.
According to company officials, customer experience improvement will take place across two fronts. First, performance indicators from the end user's point of view will be improved and certain processes will be changed. Secondly, a tailored approach of the customer will be implemented, which will also require investing in the team's training to serve the clients more efficiently.
"Integrated offers are the future in the telecom industry and we are best positioned to win the game. In brief, our fixed-mobile convergent services story is: all from one provider, delivering best value, maximum convenience with a single bill and customer care and attractive handset offer. But we will not stop here: we will improve the processes, we will expand the handsets offer and we will make sure that the fixed-mobile customer will get the best and the fastest service in the call center. Soon, these customers will be served in the call center in less than 10 seconds", Beckers said.
Since the T launch and until the end of December 2014, Telekom Romania gained 46,000 fixed-mobile convergent customers.
On the B2B segment, companies will continue to benefit from a complete portfolio of fixed and mobile solutions, applications and IT integrated solutions. To these, they can add innovative cloud and M2M solutions, meant to generate competitiveness for their businesses.
"We will develop the one-stop-shop concept. We will launch a package of convergent fixed-mobile-cloud services," said Ovidiu Ghiman, executive director Commercial Segment Business at Telekom Romania, who added that there are many complex projects in the private sector.
A new service for virtual private networks called Cloud VPN, which was launched, this March, in premiere by Deutsche Telekom in Croatia, Hungary and Slovakia, will be introduced in Telekom Romania's portfolio this year.
 Last year, Cosmote Romania and Romtelecom were integrated under the T brand, and became Telekom Romania,following a rebranding process of EUR 15 million. On an operational level, the two companies are fully integrated but remain separate legal entities.
According to Mathias Hanel, executive director Commercial Segment Residential Telekom Romania, 90 percent of Romanians know about the Telekom brand.
The rebranding also meant the integration of the retail network. "It was blood, sweat and tears to integrate the entire retail network within just 6 months," said Hanel. At the moment, Telekom Romania has 8 flagship stores, 43 stores under its own brand and 34,500 prepaid sale points under the new brand.
Telekom Romania posted in 2014 a turnover of more than EUR 1 billion and 30 percent revenue market share, as a result of the Think One strategy. Think One is a multiannual strategy, based on three main pillars and 10 major initiatives, many deployed last year:
– developing commercial and customer initiatives in order to build number one integrated telecom operator in Romania;
– changing the rules of the game, while
– transforming the operating model.
As part of the first pillar, important initiatives were launched last year: fixed-mobile convergent products, rebranding and integration of the sales force. On the B2B segment, the company focused on becoming the leading systems integrator.
As part of the second pillar, Telekom's priority was to launch a simple, transparent and value for money portfolio, strengthen partnerships on wholesale area and increase investments in the networks.
Within the third pillar, customer excellence and focus on core business were the main initiatives.
Last year, Telekom Romania won the RO-NET tender which will see the roll-out of broadband to 783 isolated localities in Romania.
"At the moment, we are the number one operator by revenues in Romania. We want to change the rules of the game and go away from the pure price-driven competition and offer services of value in Romania," said Beckers.
Otilia Haraga