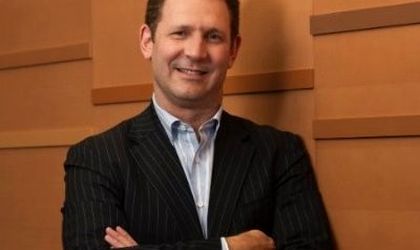 Jeffrey Puritt, president of Telus International Europe, tells Business Review how the company is putting youth and local communities at the center of its local CSR initiatives and outlines how it plans to expand its efforts in this area.
Anda Sebesi

When did Telus International Europe begin its involvement in CSR projects in Romania and how much have you invested so far?
We started on September 15, 2012, the same day we completed our investment in the company. A fundamental component of our philosophy is that in order to do well in business, we must do good in the communities where we work, live and which we serve. We immediately began planning our first Telus Days of Giving in Bucharest for September 2013, along with a number of smaller, lower profile, CSR events throughout the fall of 2012 and the spring and summer of 2013.
In September 2013, almost 150 team members (over 70 percent of our entire local team at the time) came out to renovate the Ciresarii II Center for Social Services. A year later, in September 2014, over 200 Telus International Europe team members spent the day renovating the Pinocchio Center, an orphanage that is home to 40 children. The volunteers' efforts were recognized at the Romanian Outsourcing Awards for Excellence where our 2014 Telus Days of Giving event at the Pinocchio Center in Romania was awarded "Best CSR Initiative" of the year.
Moreover, in 2014, Telus International Europe was awarded the special Engage Award for employee engagement in a CSR project, at the International Business Leaders Forum, for the Telus Days of Giving in Bulgaria.
To date, we have invested more than 7,700 volunteer hours and EUR 55,000 in the Telus Days of Giving in Romania. We also recently launched the Telus International Europe community board.
On June 6, more than 350 of our team members contributed their time and effort to improving Public School 136, where they painted corridors and the gym, did the gardens and repaired gym equipment. We will hold another Telus Days of Giving in September this year in Salcuta, Dolj.
This year, you will donate up to EUR 74,000 to NGOs in Romania and Bulgaria through the Telus International Europe community board. What percentage will go to Romanian NGOs and how?
In June we formally launched the Telus International Europe community board, which will distribute this sum annually, this year and every year thereafter, to local non-profit organizations in the two countries.
We have developed a unique corporate philanthropy model with Telus community boards. To each board, we appoint well-known members of the community who decide where to invest our money. Because they're local, they know where the need is greatest.
The chair of the Telus International Europe community board, Levon Hampartzoumian, CEO and chair of the managing board of UniCredit Bulbank, will work with the community board members to review funding requests for health, environmental and education projects proposals to support families and youth.
As a fundamental part of this corporate social responsibility initiative, Telus International Europe will work in partnership with the local and state authorities, and local non-government organizations (NGOs). The share of funding will depend on the proposals deemed to be most in line with the eligibility criteria.
Telus International community boards focus funding on those charities that best meet our funding guidelines and clearly demonstrate a focus on youth in the areas of health, education or the environment.
With the launch of the Europe community board, Telus now has 15 such boards, including four Telus International community boards, which donate more than EUR 4 million annually.
What is the company's CSR strategy in Romania for the future?
In a first, this year we will host a second Telus Days of Giving in Romania, in a city outside Bucharest, and we will continue to host these events in the years to come. With the launch of the Telus International community board on June 2, we will distribute up to EUR 74,000 annually as I mentioned. Next year, we plan to launch a second Telus International Europe community board, focused exclusively on Romania, funded annually with a further EUR 74,000.
In addition, we continue to support SOS Babies of the Street (a campaign to help homeless babies), fundraise for the Hospice Foundation, host on-site blood donations in conjunction with the local Red Cross, and facilitate other volunteer opportunities for team members in Romania. Our team members are also encouraged to bring forward their own ideas for volunteerism.
About Telus International Europe
– Telus International Europe is a multilingual contact center, BPO (business process outsourcing) and ITO provider.
– The company has almost 2,000 team members across five delivery centers: Sofia and Plovdiv (Bulgaria); Bucharest and Craiova (Romania), as well as offices in Manchester and Cannock (England).
– It offers contact center solutions, ITO and customer service support for global customers in over 30 languages.