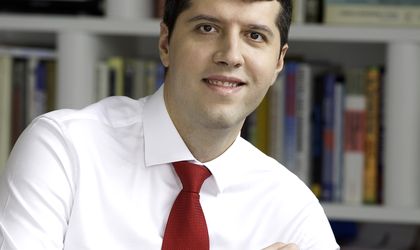 With annual investments in R&D p­­­rojects reaching 10 percent of turnover and a consolidated turnover of EUR 93 millio­­n in 2014, Bogdan Padiu, CEO at Teamnet Group says the group will aim to generate 40 percent of revenue from international markets by 2018 and to enforce their position as a regional player.
Anda Sebesi
At present, technology is one of the fields with extremely rapid developments. How do you see the world from this perspective in the next five to ten years?
Technology inspires us to evolve and brings innovation to all aspects of our lives. We depend on technology for everything we do; this is why technology is no longer a concept that refers exclusively to the IT sector, but a reality for all industries all over the world. Today, technology is the backbone of numerous processes and day-to-day activities. At Teamnet, we believe that technology is one of the most important pillars supporting the evolution of society, and we are confident that the years to come will only further integrate innovation into our lives.
If we look at forecasts, according to Gartner, by 2020, there will be a quarter billion connected vehicles on the road, enabling new in-vehicle services and automated driving capabilities. In this field, the future will provide the opportunity to buy a movie ticket as we're driving past the theater because the car knows that the theater is there and that we like going, and it will even suggest a movie we might want to see. Also, starting 2018, cars will have an electronic safety system which will automatically call emergency services in case of a serious accident. Teamnet is part of HeERO (Harmonised eCall European pilot), a project which, among other objectives, is preparing the infrastructure required to achieve the "eCall" service interoperability at the European level.
By 2020, studies also show that a quarter of the organizations in emerging regions will run their core CRM systems in the cloud, up from around 10 percent in 2012. In five years, drones will be a standard part of operations in many industries, used in agriculture, geographical surveys, oil and gas pipeline inspections. Also, in the industrial market, robotic systems will replace the use of several robots in a common production line, offering companies the possibility to innovate the working process, thus streamlining the operations and necessary investments on this segment. And the list could go on and on. We constantly invest in key areas such as Robotics, GIS, Cloud and SCADA.
Teamnet is actively involved in research and integration of Unmanned Aircraft Vehicles (UAV) technology. What can you tell us about the projects of the Group in this field, the Signus and Hirrus UAVs respectively?
We currently integrate UAV systems offering accurate real-time data from the air, and we are actively involved in the research and development of new, improved functionalities, which will position our autonomous systems near the top-rated products in the field in the next years.
Signus is an innovative UAV system that is currently in the prototype phase and is designed to reach high performance in terms of speed (230 km/h) and altitude (3.000 meters) and weighs up to 100 kg. Airbus Defense & Space is our supplier for developing the solution for the broadband data communications system and on-board computer for this unmanned aircraft.
Our expertise in the UAV technology has been proven so far also by the Hirrus system, already being used in several countries in the region and making a real difference through its extensive applicability in various industries such as agriculture, emergency sector, urban development, border surveillance and real estate. The advanced integrated UAV system is able to cover large surfaces in the shortest time possible, capturing and streaming both daytime and nighttime high resolution live images from the ground, even in unfavorable weather conditions. Hirrus provides institutions such as Border Police, Coast Guards and Emergency Agencies at European level with highly effective advanced surveillance solutions. Together with EmerGIS, a complete emergency and disaster management software application which encompasses advanced GIS systems, Teamnet's leading airborne technology is essential in emergency situations that might occur in the monitored areas, allowing immediate location and information detection and a fast, targeted intervention in case of disasters, with minimal costs.
As one of our best practices, this year, we have developed and implemented in Serbia an integrated UAV and GIS system for the management of natural disasters at the border between Romania and Serbia, as part of a complex cross-border cooperation project for safety in emergency situations. This way, residents from the border areas can benefit from enhanced safety, through the optimization of procedures and of the response time in case of flood, fire or other natural disasters. Thus, we are the first company in Romania to export UAV-based integrated solutions in the region.
What are the research and development projects that Teamnet Group is developing now?
There are many important R&D initiatives to mention. Among them, a visionary project aimed at developing a next-generation complex and multifunctional industrial robotic assembly, which will revolutionize the production process in various fields such as aeronautics, railway and sea transportation, infrastructure engineering and renewable energy. The Megarob structure is available for trial use and, further on, will become available for deployment in today's factories worldwide. The prototype was launched in October, this year, and was developed with the support of six other organizations from Spain, Luxembourg and Switzerland, coordinated by AITIIP Technology Centre.
NEXES or the Next Generation Emergency Services, an R&D project that we joined this year, stands out through its ambitious objective to deliver innovation to 112 services across Europe. Additionally, it will lead to the development of a truly universal emergency situation management system, through the research and development of advanced IP-based communication systems and technologies. NEXES enables the use of total conversation capabilities in emergencies, including social media, for the benefit of citizens. It allows the exploitation of improved location information to rapidly and effectively identify and locate the caller and the incident site and enhances interoperability and shared awareness among emergency services by leveraging internet-enabled connectivity. Within the project, Orange Romania will ensure the expertise and communication infrastructure based on which Teamnet will develop and integrate software services for the applications dedicated to the emergency services at national level.
By 2020, Gartner forecasts developed world life expectancy will increase by 0.5 years due to widespread adoption of wireless health-monitoring technology. Through the StayActive European project, we aim to reduce health and work problems arising from stress for older end-users, while, at the same time, to support organizations by enabling users to adhere to corporate policies easier.
How do you invest annually in research and development and how much did you invest in this area so far?
Innovation is in Teamnet's DNA. We constantly invest in research and development projects aimed at transforming innovative ideas into reality, with 10 percent of our turnover being dedicated to R&D projects every year. We have been investing in R&D for over 10 years, as a long-term endeavor and a strong commitment.
What can you tell us about the presence of the Teamnet Group worldwide and what are its main plans in this regard?
Regional development is one of the key elements of Teamnet's strategy and roadmap, building on the rapid evolution seen in the past years. Teamnet's regional expansion started in 2010 and, today, besides our headquarters in Romania, we are present with direct operations in Turkey, Belgium, Croatia, Serbia and the Republic of Moldova, while counting a total of 10 countries where we are actively developing projects alongside regional partners.
By 2018, we plan to enforce our position as a regional player and grow our business in international markets, with the business objective of generating 40 percent of revenue from this area. At the same time, we will continue to consolidate our regional growth strategy and expand in new international markets, such as Poland, Italy and Bulgaria, as well as reaching a higher coverage of the CEE and MENA regions.
What is your expertise at present? What are the directions of innovation that the Group is following?
We are constantly investing in the development of our team's key competencies. We are among the first companies in the region integrating the GIS technology with the UAV systems, in order to deliver full solutions or to design a Cloud platform accessible to the SMEs in Romania. Moreover, we are specialized in the design and implementation of the SCADA automatic control systems that are successfully integrated in our engineering projects.
In the past years, we have specialized in different innovation fields from Natural Language Processing, Big Data and Computer Vision to Robotics, Internet of Things and Ambient Assisted Living, and currently, we're focusing on four main R&D directions: Robotics, Cloud, Internet of Things and Smart Cities. More than 30 projects testify our expertise in research and development.
What are Teamnet's main achievements of the past three years and what is your business vision over the next five years?
In the last years, we managed to bring change in each company of the group, in the local IT&C industry and at regional level. Among our main achievements, we mention the strategic financial partnerships with renowned investors – International Finance Corporation, a World Bank Group Member and Black Sea Trade and Development Bank -, the strategic partnerships with NEC and Microsoft, opening new offices at international level, developing new innovative products, building on new business lines and consolidating our position as one of the top employers in Romania. Also, this year we joined the Elite programme, initiated by London Stock Exchange Group, that develops and supports ambitious private companies from Europe through their growth process.
Today, we are planning to reach equally significant milestones in the coming years. One of them will be the listing at a Stock Exchange by 2020. Also, our financial results confirm the growth potential, both in Romania and regionally, which is why our strategic plans for the next five years consist of launching complex products and projects in important international markets, where we can develop large scale projects built on our business pillars: engineering, medical services, cloud, IT operations and robotics. Also, we will increase our focus on growth in the private sector, bringing innovation to the areas we are active in.
What do 14 years of presence on the Romanian market mean for Teamnet?
Over the past 14 years, our innovative initiatives and ambitious plans transformed us into one of the leading IT system integrators in the region. In 2014, Teamnet Group recorded a consolidated turnover of EUR 93 million, 29 percent higher compared to 2013. Teamnet has been included in the Deloitte Technology Fast 50 Central Europe, ranking for seven years in a row and remained in the "Big 5" category in 2015. Moreover, the company recorded a strong evolution in terms of number of employees, from 7 people in 2001 to approximately 800 today.
How do you see Romania in 20 years from now from a technology perspective?
The future of technology is limitless. The synergy between state-of-the-art technologies such as Cloud, Internet of Things, GIS or UAV will most certainly lead to technological innovation that will fuel Romania's development in the next two decades. Research and development play a key role in this technological evolution where Intelligent Objects and, furthermore, Smart Cities, are only some of the new innovations Romania could experience in the future. With everything connected to the Internet, from TVs and smartphones to robots, home appliances or ATMs, to the city's infrastructure that will not only be connected, but also controlled from a central panel, we will witness new ways that technology can revolutionize and transform our day-to-day lives.