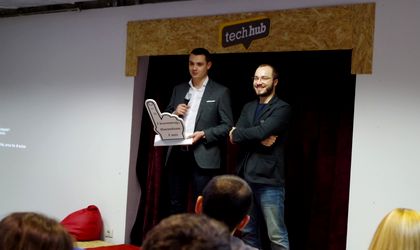 TechHub Bucharest Demo Night has launched the call for applications for technology startups founders who wish to showcase their product and receive feedback from a jury of investors and tech professionals. TechHub Bucharest Demo Night will take place on February 25, at 18:30. The entrepreneurs can apply until Friday, February 12, by filling in a dedicated online form on the website of the event.
The finalists will be announced on February 16 and TechHub Bucharest Demo Night will take place on February 25, starting 18:30. The participation is free of charge.
TechHub Bucharest Demo Night is a pitching competition that mainly applies to startups with global potential that have developed at least one functional prototype for their product and wish to take feedback from the public.
The jury will select up to ten startups that will have at their disposal five minutes to present their product and three minutes to answer questions. At the end of the presentation, there will be prizes for the Best Startup and Best Pitch.
The jury includes well-known investors and entrepreneurs on the tech scene, among whom Alex Negrea (angel invesotor & Director of Engineering, Intralinks), Bogdan Iordache (investor and co-founder of How to Web & TechHub Bucharest),  Carmen Sebe (angel investor),  George Diță (Startups Program Manager, How to Web), Mălin Ștefănescu (angel investor and co-founder & CEO EEU Software), Raluca Georgescu (Country Manager of Answear.com & co- founder GPeC), Robert Knapp (co-founder & CEO, CyberGhost) and Rumen Iliev (Partner, LAUNCHub).
The TechHub Bucharest Demo Night previous edition designated CloudHero, a product that automates the management and escalation of an application in any cloud, as best startup.
Otilia Haraga