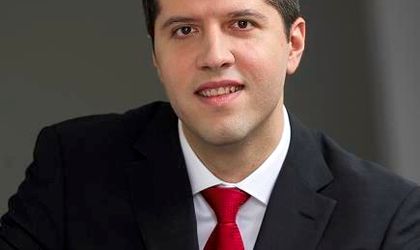 Teamnet has announced a new brand identity to align with the company's plans to expand its footprint to 12 new markets in Central and Eastern Europe, the Middle East and North Africa over the next five years. The list of countries where Teamnet plans to open up offices includes Poland, Italy and Russia.
The company is already rolling out projects in 10 countries in the region, but it plans to open offices in 12 new countries, which will see over 40 percent of its turnover being generated by operations outside the country by 2018, CEO Bogdan Padiu (in picture) announced.
At the moment, Teamnet has four local offices in Romania – in Bucharest, Iasi, Galati and Bistrita – and four international offices in Belgium, the Republic of Moldova, Serbia and Turkey.
By 2016, the technology company's turnover is projected to reach EUR 100 million. Currently, Teamnet has 600 employees and aims to reach 750 next year.
Annually, 10 percent of Teamnet's turnover is invested into R&D projects. At the moment, the firm is involved in 12 such projects including HeERO 2 (Harmonised eCall European Pilot), Smartcem (Smart Connected Electro Mobility), MobilSage (Situated Adaptive Guidance for the Mobile Elderly), the National Integrated Visa System and E+ (an energy efficiency project).
At the moment, 20 percent of the turnover comes from the private sector but the company plans to take this proportion up to 30 percent. It has signed external projects worth EUR 6 million.
In 2012, Teamnet posted a turnover of EUR 53 million but plans to raise this to EUR 100 million by 2016.
In five years, over 30 percent of the company's turnover will come from the private sector. The domains of interest to TeamNet are agriculture, the environment, e-government, transportation, education, healthcare, energy and transportation.
In mid-2013, the firm announced it had designed, built and tested several unmanned aerial vehicles (UAV) in Romania. The aircrafts have three hours of autonomy and can reach speeds of more than 110 kilometers per hour at altitudes of over 2,500 meters. "We have been working on this project for nearly three years and we have roughly 40 specialists working on it. Currently, we have 20 UAVs but we estimate the production of these units will grow by at least 30 percent annually," said the CEO. He added that Romania has very good aeronautics engineers.
The firm also announced it is preparing a new brand identity, on which it started working with Brandtailors last year and which will be completed next year. The rebranding strategy will be implemented over the next five years following a total investment of EUR 1 million.
Until 2011, the firm was part of the Asesoft group, which belongs to businessman Sebastian Ghita. ThTeamnet group is made up of four companies: IT&C integrator Teamnet, Teamnet Dedalus focused on the medical sector, system integrator TeamNet Engineering and cloud service provider Ymens.
Otilia Haraga