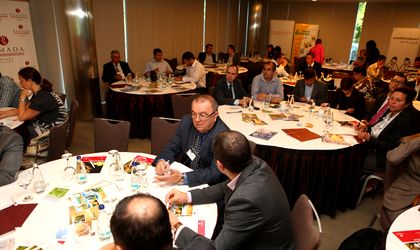 The development of the local farmland market following the 2014 land liberalization, the effects of reduced VAT on bread prices and what it takes for Romanian produce to reach the shelves of modern retail chains were the main topics discussed by participants in the third Focus on Agriculture event, organized last week by BR.
By Simona Bazavan
One of the main pieces of agribusiness-related news this summer will be the VAT cut for bread products, which could come into effect in July.
The government's plan to reduce the sales tax on bread from 24 to 9 percent is an entirely political measure meant to reduce the burden on Romanian consumers, said Alex Jurconi, president of the Pro Agro federation, at the third Focus on Agriculture event, organized by BR last Monday.
He added that the measure will not lead to reduced prices, at least not at the producers' level.
Mihai Berca, manager of seeds supplier Probstdorfer, also argued that the measure will have no benefits for suppliers and producers, unlike other measures such as the reversed taxation scheme.
While the VAT cut could reduce tax evasion, Jurconi was not confident the government would come up with the necessary money to make up for the losses to the state budget caused by the tax cut on the short term.
The authorities have estimated that these could reach RON 250 million (approximately EUR 56 million). The actual losses generated by tax evasion in various sectors of agribusiness are much higher than this, added
Jurconi, stressing that over the past few years there has been no political will to fight this phenomenon effectively.
Another topic that has provoked intense debate of late is farmland market liberalization from 2014 and the resulting concerns over potentially massive acquisitions by foreigners.
Victor Ciuperca, area manager at amb Holding GmbH and the event's moderator, pointed out that the discourse on the matter often slips into populism, given that about 3 million hectares of the country's 9 million hectares of arable surface are currently lying fallow and investments in land acquisitions are hindered by land fragmentation and legal issues related to land ownership.
Moreover, foreign citizens are already able to buy farmland in Romania through locally registered companies, pointed out Cristian Popescu, managing associate at Popovici Nitu & Asociatii.
Nevertheless, be it locals or foreigners, farmers and investor are increasingly interested in buying farmland and banks are picking up on this, said Dan Bota, head of the retail business unit and network at Intesa Sanpaolo Bank Romania.
Participants also discussed the matter of reduced productivity resulting from the lack of integrated production chains, a problem with which Romanian agriculture has been struggling for years without much improvement.
Camelia Sucu, owner of Piata de Gros Abundia, a wholesale market for agricultural products in Bucharest, said that during talks with farmers the most often cited problem is the lack of collection centers for produce such as vegetables and fruit. Yet more than the actual spaces, farmers lack access to knowhow.
"Small Romanian farmers don't know what to produce, or in what quantities, and often lack the proper inputs and technologies," she commented.
They themselves also lack the logistics and knowhow required to sell their produce, which leaves them at the mercy of intermediaries.
Producers' associations would solve much of this and would allow farmers to deal only with what they are good at, meaning the actual production.
However, little progress has been made over the past 20 years in setting up such associations and it is unlikely this will happen overnight, the entrepreneur added.
Mistrust in the concept of association is perhaps the main barrier but this can be overcome by the power of good examples, added Sucu.
Better integrated production chains would also mean that local farmers were able to meet the requirements of retailers and could sell their produce in local hypermarkets and supermarkets.
Florin Capatana, corporate affairs and quality director at Carrefour Romania, said that his company has very strict quality standards which it imposes on its suppliers.
The process of selecting suppliers for the company's private label products takes time – about six months on average to launch such products – and is very thorough.
Things have improved over the past years and about 90 percent of the private label products Carrefour sells locally come from Romanian suppliers, Capatana said.
He added that the retailer tries to find local alternatives to importing whenever possible, especially when it comes to fruit and vegetables. Yet, this is not always easy. Last year Carrefour imported some 3.8 million tons of apples and sourced 2.3 million tons locally.
However, progress has been reported in other directions. Alongside other retailers, Carrefour has recently signed a partnership with Bio Romania, the association of Romanian organic farmers, to put about 50 of its products on the company's shelves, Marian Cioceanu, the association's president, disclosed.