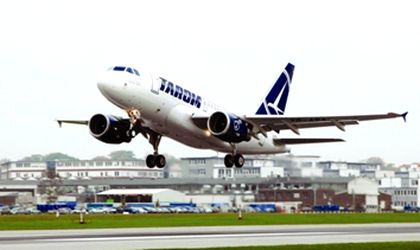 Tarom warns that the impromptu employee protest started on Monday will continue into the next day and as a result a part of its flights on Tuesday may be cancelled or delayed.
"Although at this point there are no cancelled flights, Tarom warns that, due to a lack of flight crews, some delays and even cancellations may arise. (…) The company's representatives will meet with personel today to resolve the situation", according to a press release from the company.
Passengers that find their flights had been cancelled or delay will be able to ask for assistance. Tarom informs that the call center is operational between 08.00 and 20.00 during weekdays, and between 09.00 and 14.00 on Saturday.
Phone number: 9361 (Bucharest), 021.204.64.64, 021.303.44.00 or 021.303.44.44.
On monday, seven Tarom flights, two external, were cancelled and two other flights were delayed, due to a spontaneous protest of employees. Ioan Rus, Transport minister, asked Tarom's management and unions to began negotiations and quickly fix the problem.
Ministrul Transporturilor, Ioan Rus, a solicitat conducerii şi sindicatelor Tarom să înceapă negocierile şi să găsească rapid soluţii pentru ca activitatea operatorului aerian să revină la normal