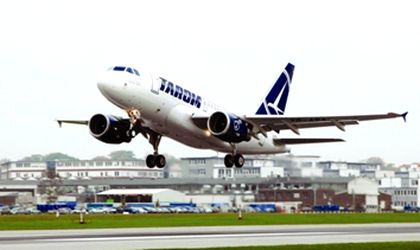 Romanian state-owned airline Tarom has reported a RON 49 million (approximately EUR 11.4 million) loss in Q1 2013, down 24 percent y-o-y, according to preliminary data made public by the company.
The result is also below the budgeted RON 79 million (approximately EUR 17.3 million) level.
A combination of "multiple measures focusing both on cutting costs and boosting revenues have compensated for the economic difficulties and have generated a very good result," said Christian Heinzmann, the airline's executive director. He added that results with further improve starting Q2 2013 following the implementation of the management plan.
In October last year Tarom was the first state-owned company in Romania for which private sector management was selected as part of the government's agreement with the IMF to appoint private managers for 10 state owned transport companies.
According to Tarom's management plan, losses should not go beyond RON 143 million (approximately EUR 31.7 million) this year and drop to RON 18 million (approximately EUR 4 million) in 2014.
The company wants to reduce this year the number of employees by 10 percent through volunteer layoffs and increase the number of passengers by 100,000 each year from 2.3 million in 2013 to 2.6 million passengers in 2016.  
Simona Bazavan