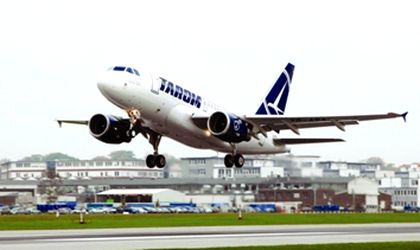 Romania's state-owned airline Tarom reported a RON 130.1 million (EUR 29.4 million) loss in 2013, down 44 percent y-o-y, according to Mediafax newswire. This was above the company's target for last year, said company representatives. At the same time, the airline has increased its turnover by 3.5 percent to RON 1.08 billion (EUR 288 million).
In 2012, the company reported a RON 230.6 million (EUR 51.8 million) loss and a net turnover of RON 1.048 billion (EUR 235.5 million).
Following Romania's agreement with the IMF, Tarom has been privately managed since 2012.
"Tarom is making big efforts to meet its main target – which is to become profitable in the context of very fierce competition from both low-cost operators and regular airlines. Our financial results have significantly improved  (…)," said Christian Heinzmann, the company's CEO adding that the airline has "improved on board services and its flights timetable by adding new routes and increasing flight frequencies".
Last year Tarom added 10 more routes from Romania (Bucharest – Prague, Cluj – Prague, Bucharest -Geneva, Bucharest -Stockholm, Bucharest – Moscow, Iasi – Bologna, Iasi-Milano (Bergamo), Iasi – Torino and Iasi – Tel Aviv) and is presently flying to 50 locations.
Tarom was set up in 1954 and is now operating 24 aircrafts (Airbus, Boeing and ATR).
Simona Bazavan