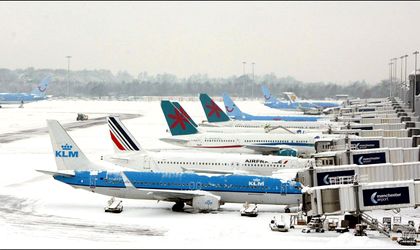 With the onset of snow and low temperatures, the "Henri Coanda" Bucharest Otopeni Airport is experiencing take off delays of around 30 minutes caused by the de-icing procedures, announced the Bucharest National Airport Company (CNAB) this morning, according to Mediafax newswire. So far no flights have been cancelled due to the weather, but the Bucharest Airports website is reporting that most flights are experiencing some degree of delay, with a flight to Munchen being expected to leave 20 minutes later, while a later flight to Moscow has a delay of almost an hour and a half.
The two international airports in Bucharest, Otopeni "Henri Coanda" and Baneasa "Aurel Vlaicu", are currently operating under winter conditions, further stated CNAB. "At both Bucharest airports, interventions with own machinery are happening to keep the runways in top shape and to ensure that air operations are taking place under conditions of complete safety", also said CNAB.
At the moment Bucharest is registering a temperature of minus eight degrees, with the National Meteorology Administration (ANM) having issued a code yellow warning for snowfalls and blizzards in 10 south-western counties this morning and has warned that the area of snowfalls will continue spreading throughout today and tomorrow morning.
Following the ANM warnings, the railways will also be operating under winter conditions, with changes in train scheduling being possible, announced this morning the national railway company CFR Calatori, according to Mediafax. CFR also said that measures to prevent the disturbance of the railway traffic have been taken, including backup Diesel locomotives and additional intervention teams and necessary personnel for snow removal.
Travellers are advised to keep appraised of the weather conditions and to contact the CFR station in their departing city for up to date information on train schedules. Further information on the current flight schedule of the two international airports is available on the Bucharest Airports website.
The information provided in this article was available at 14.00pm.
Andreea Tint