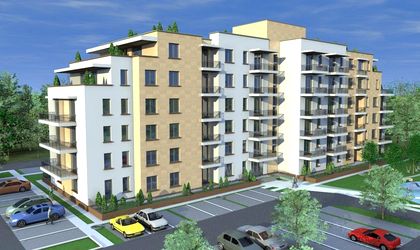 The first phase of the residential complex Adora Pipera, an investment financed by the British fund Patron Capital, with assets worth billions of euros, was completed and handed over to the developer, Tagor, which started the sale process.
With prices below EUR 600 per square meter, Adora Pipera puts up for sale in Pipera area 76 two and one-bedroom apartments and studios. Housing prices in Adora Pipera start from EUR 64,000 for two-bedroom apartments, from EUR 57,000 for one-bedroom apartments, and from EUR 43,000 for the studios.
"Pipera knows a real estate development boom and more and more people will be working in the offices nearby, given that Northern Bucharest has become a hub of companies' headquarters in recent years. There are lots of office buildings under construction so we estimate that in the next 12-18 months at least several thousand employees will be relocated to the area, and some of them might be seeking a home closer to their workplace," stated in a release Andreea Hamza, Adora's director of marketing and sales.
Adora projects started in 2013 with Adora Urban Village in Southwest Bucharest and continued last year with the launch of Adora Park  in Arad and Adora Forest in Timisoara.
Staff