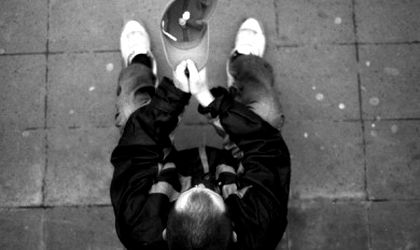 Romania should foot the bill for its citizens who travel to Sweden to beg, two prominent Liberal Party politicians said on Monday as they admonished certain EU countries for not taking care of their poorest citizens, writes thelocal.se.
"It's time for the bill to end up where it belongs," two top Liberal Party (Folkpartiet) politicians argued in the op-ed pages of the Dagens Nyheter newspaper on Tuesday.
Stockholm city hall politician Lotta Edholm and MEP candidate Erik Scheller described the ouskirts of Stockholm, "with walls made of plastic bags, melted snow instead of running water, and plastic buckets for the waste" and specified they can't understand how immigrants could live like that.
"As fellow human beings, we react even more strongly when we realize that these Swedish slums are something that people in Europe flee to, not from," the politicians wrote.
In their op-ed, the Liberal politicians said that nine of ten persons who ask for money on the streets of Sweden are Romanian Roma, who have headed north to escape poverty and discrimination in their home country. Furthermore, their government is not doing enough to help the poorest among its citizens.
"I think there can be money for this in the ordinary Romanian budget," Scheller told the TT news agency, and also underlined that Romania at present only put about 20 percent of its allocated slice of the Euroepan social fund to use.
In the long-run, Sweden should be able to send any invoices for social and welfare services incurred by Romanian citizens back to Bucharest, they argued, but such a move would have to be shored up at union level in the shape of a directive.  On the other hand, the duo ruled out other politicians' call for a ban on begging.
"It's a long process, but the most important thing is that Roma in Romania get acceptable living standards, that is the long-term goal," Scheller said.
The op-ed stated that "Romania, not Sweden, and never the individual who is begging, should pay the bill for the country's social policies having totally collapsed".