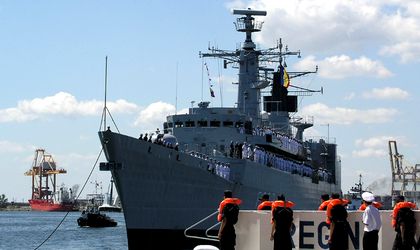 Yesterday, representatives from the Swedish defence and security company Saab AB, which holds a 27 percent share of global defence materiel spending, according to their representatives, expressed interest in the modernisation of Romania's two T22 frigates, Ferdinand and Maria, which former Defence Minister Mircea Dusa said, in August, were due to start a process of modernisation in the fall.
At yesterday's conference Robert Daunfeldt, Saab AB country coordinator in Romania, said that, "right now we have more than 230 delivered systems with the capacity searched for by the Romanian navy". Currently, Europe, Middle East & Africa is Saab AB's largest market outside the Nordic countries, "representing a quarter of the world's defence spending", according to their representatives.
Saab AB's Retrofit Program, Daunfeldt said, is "exactly what Romania needs. You have an older ship, it is outdated, a lot of stuff needs to be changed". Furthermore, he stated that "what differentiates our system, a lot, from competitors is the fact that we can, with the same basic configuration of the software, expand the capabilities" by adding on systems later on in the modernisation process. The reason why Saab AB would be able to offer this level of flexibility is because they use an open architecture with a modular design, "which means it's scalable, from small to large, and that also means you have a very cost-effective development", and also because of their ability to easily integrate third party systems into their own, explained Daunfeldt.
He added that an important task for Saab AB at the moment is to rebuild a relationship with the Ministry of Defence (MOD) and start a dialogue. Once that dialogue is started, Daunfeldt intends for Saab to be one of the companies that will respond to it. As for whether Romania will go with an auction in order to choose the company that will be doing the modernisation of the two frigates, Daunfeldt stated that, "right now, there's two different ways of doing it. The first version was to go through a phase one where they chose the industry and from there down-select it to a few where they would go on for an RFQ phase". Due to pressure on the MOD to modernise the frigates in a timely manner, "it might be that they (MOD) might open up a direct dialogue immediately with companies that have already shown their interest in their program", he further explained.
Moreover, Antonio Castells, expert in industrial cooperation at Saab AB, presented several long-term possibilities for the rest of the Romanian economy if Saab AB were to enter the market through the frigates' modernisation program. "If Romanian companies are good for us and are competitive and can deliver quality, we will now tap into that Romanian supply chain and start to collaborate", he said, adding also that Saab AB is part of a bigger company group that includes such companies as Electrolux. "In 2005-2006, the Hungarian people chose the Gripen fighter plane. Electrolux chose to place their manufacturing of refrigerators in Hungary so that's the way to show that we have more cards than only the Saab portfolio to play with if we come to Romania", he detailed, hinting at possible further Swedish investments in Romania.
The Maria frigate is currently engaged in a training exercise in the international seas of the Black Sea, together with an American destroyer, a Turkish frigate and an Ukrainian auxiliary vessel for the purposes of increasing security in the Black Sea area.
Andreea Tint